Black belt siblings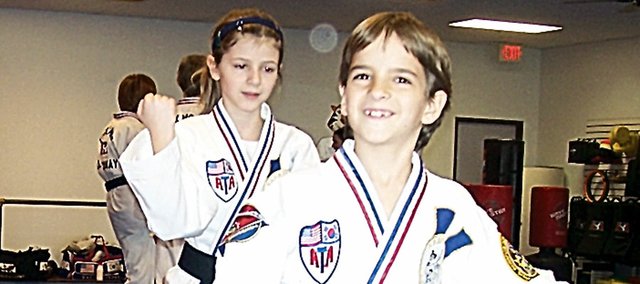 Rhett Rinehart is not the type of person you want to mess with in a fight. He can break boards with his bare hands and knows a number of grappling techniques that could lay a grown man flat on his back.
But Rhett is not a muscle-bound body builder, nor is he a hardened Chicago gangster. In fact, at only 9 years old, he's not even out of grade school yet.
Roughly two months ago, Rhett earned his black belt in songham taekwondo, the discipline's highest rank.
To earn a black belt, students are required to pass a test in front of their instructors, which Rinehart failed on his first two attempts. Although frustrated after failing, Rinehart never seriously considered quitting, his parents providing him with the support he needed to try again.
"It felt really good," Rinehart said of his accomplishment.
Rinehart started practicing taekwondo three years ago as part of the Tiny Tigers, a program designed for younger students and has been involved with it ever since.
"It's a lot of fun to do," Rinehart said, adding that taekwondo had allowed him to make friends with people he wouldn't have met otherwise.
Rinehart also said that practicing taekwondo has helped him develop as a person, made him better at following directions and more sociable with others his age.
His mother, Nancy Crisp, has noted a similar change in her son.
"Rhett used to think he knew it all," Crisp said. "You couldn't teach him anything because he thought he was already an expert in everything. Now he's more willing to listen."
All in the family
And Rhett is not the only member of his family to earn a black belt at a young age. His sister, Aubrey, four years his senior, earned her black belt in May 2007 after two years.
Aubrey has competed in taekwondo competitions in multiple states, including Kansas, Missouri, Arkansas Nevada, Florida and Nebraska. Last year, Aubrey won state titles in weapons, sparring and form competitions.
"It's a great feeling," Aubrey said. "I've been doing it for a while, so it feels good to be recognized."
During competitions, athletes are scored by three judges: a hand judge, a foot judge and a center judge, who looks at the athletes' overall performance. At the end of the year, the athletes' points from every competition are totaled and state titles go to those who have accumulated the most points.
Aubrey won the sparring and form competitions by relatively large margins, five and three points, respectively, but eked out a narrower victory in the sparring category, winning by one point.
Although brother and sister both say they now enjoy their shared interest in martial arts, which gives them something to talk about and do together, there were tensions in the beginning.
Because Rhett began five months before Aubrey, he was initially ranked higher than his older sister, which Aubrey had a hard time stomaching. But Aubrey ascended through the ranks faster than Rhett, earning her black belt seven months before he did. While his sister's achievement frustrated Rhett, tensions have eased now that both hold black belts.
Crisp said she was pleased with the changes taekwondo has induced in both her children.
"It brings out the best in everyone," Crisp said. "They've both come along very well through martial arts."