Heavy winds hammer barn near Vinland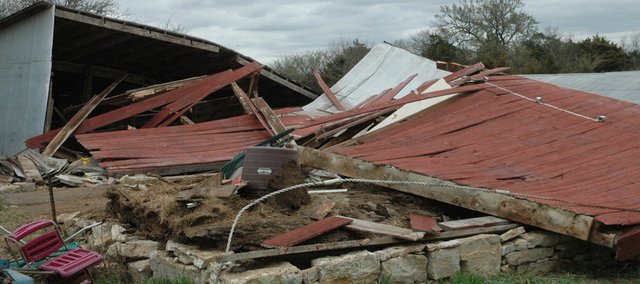 Barbara Maycock knew it was a windy night Thursday. She could feel her old house shaking.
But the Vinland woman didn't expect to see her 100-year-old barn in a pile of rubble when she awoke the next morning.
"I came home last night at around 8 o'clock and everything was fine. I went to bed and when I got up this morning, I looked out and I thought something was wrong. And, then I said 'Oh my gosh, the barn is gone. It's flat,' " Maycock said.
What she can only explain as a microbrust had pushed off the roof of the barn, blown over its wooden sides, lifted a refrigerator inside it, damaged an antique tractor and moved a fishing boat about six feet. A nearby pink plastic flamingo, however, didn't budge.
With the exception of the old barn and boat, other parts of the property remained intact, including a stone barn that is on the National Register of Historic Places. And, Maycock hasn't heard of any of her neighbors sustaining damage from Thursday night's storm.
This summer, Barbara and her husband Dave had made improvements to the barn, which was originally purchased as a build-it-yourself kit from Sears, Roebucks & Co. more than a 100 years ago. The couple had painted it, reset the stone foundation and put in new baseboards.
The barn was insured, but Maycock said the value was more on the sentimental side. They had plans to put it on the historic registry.
Despite the damage, Maycock counts herself as lucky. Usually stored inside the barn is a van holding the popular KU hot air balloon. The balloon was taken out for repairs the day before.
- Staff writer Christine Metz can be reached at (785)832-6342.