Wellness Festival draws usual crowd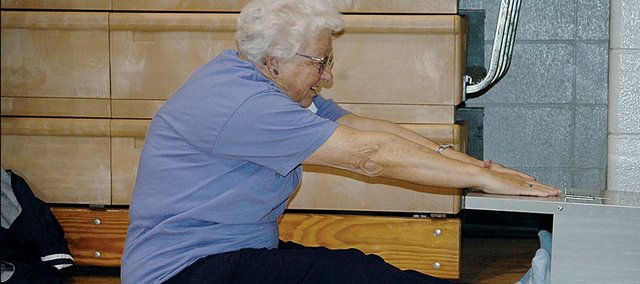 Once again, it was another successful year for the annual Community Wellness Festival.
Saturday's event hosted by Baker University saw its average attendance come forth, but with more visitors having their blood work done than ever before.
"The health fair was awesome," said Ruth Sarna, event director and director of Baker University student health services. "It was just a super event. We were so thrilled. We had about 350 people we figured and 90 people had their lab work done, which is an increase from last year."
The usual assortment of screenings were available Saturday. There were around 65 exhibitors at the festival this year.
"We had a pretty steady flow at all of the screening areas," Sarna said. "I don't think we ever had a big rush at any areas. The bone density, blood pressure, hearing and other screening stations were very busy."
Two children's bicycles and one adult bicycle were given away in raffle drawings. There was also a fire truck from the Baldwin City Fire Department outside Collins Center for children.
"The young kids loved the fire engine," Sarna said. "I think the best part is calling someone to tell him or her they have won a bicycle. That was pretty awesome."
She also said they had positive feedback from visitors and hope to improve the event next year.
"We will make plans for next year's event to be at the end of March or beginning of April again," she said. "We will go for it."