Streetscape is about to be wrapped up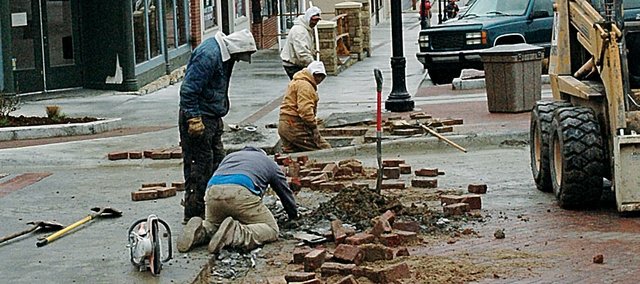 It's almost over. The Downtown Streetscape Project is nearing completion, the Baldwin City Council was told at Monday's meeting.
"We're out of the mud and have all the concrete done, except for what they're re-doing," City Administrator Jeff Dingman said of the $1.8 million project that was started in June. "We'll get with the engineer about what else should be done. The masons should be here next week. We've got some railing to get done.
"We've paid for about 85 percent of it," said Dingman. "It's getting pretty close to being done."
Public Works Director Bill Winegar said there's additional clean-up work to be done and other items, but the project should be wrapping up soon.
"I think they want to be out of here in two weeks," Winegar said of the Bryant and Bryant Construction crew. "It's getting real close."
Council Member Ken Wagner, who'd brought the progress question up, was concerned about the sidewalks on the south side of High Street, but likes what he sees over all.
"I think it looks pretty good," said Wagner. "I think it looks nice."
Wagner also wondered about when the fountain that was paid for by the community and given to Baker University in celebration of its 150th anniversary would be operational.
"I wouldn't be surprised to see it at any time," said Dingman.
But, it won't happen until the work crews can find a leak in the irrigation system that feeds into the fountain.
"I think they're chasing leaks in the irrigation system," Dingman said Tuesday afternoon as workers had torn into the area around the post office and east from there along High Street.
He also said that the meeting with the contractors has been delayed.
"We've put the walk-through we were supposed to do today off," Dingman said Tuesday. "There are still some obvious things they need to do, plus weather, plus unavailability of one of the contractor owners, so we'll do that after a few more days."