Championship celebration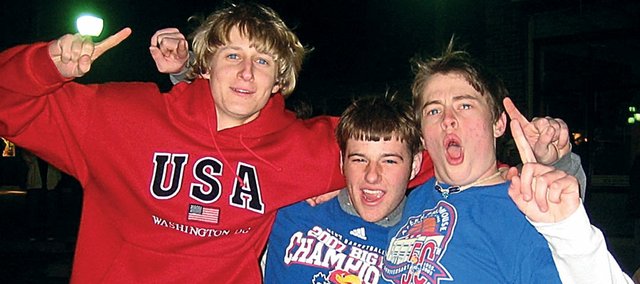 Lawrence residents weren't the only ones celebrating Monday night.
Many Baldwin City fans headed north after the University of Kansas men's basketball team won the NCAA championship game. That included several Baldwin High School students.
The party in downtown Lawrence began around 11 p.m. and didn't end until 2 or 3 a.m. Nearly 40,000 people crowded the streets to celebrate KU's 75-68 victory over Memphis.
"It was absolute chaos," BHS senior David Lynch said. "There were thousands upon thousands of people. It was cool, because you were giving everybody high-fives and everyone was feeling the exact same thing. It was like, 'wow, we won.' It was awesome to be a part of that."
Almost everyone that celebrated downtown shared the same feeling of excitement after the Jayhawks' first national championship since 1988. None of the current BHS students were alive to see "Danny and the Miracles" beat Oklahoma 83-79 20 years ago.
To make up for lost time, the BHS students joined the thousands of other KU fans Monday night. Most of the people crowded Massachusetts Street from Sixth to 11th streets.
"Mass. street was nothing but fun," BHS senior Nick Rockhold said. "Everyone was having the time of their lives. Emotion was running wild throughout the streets. It was sheer joy and happiness on everyone's faces. Mass. street was crazy. People were crammed from Sixth Street to as far as the eye could see."
Rockhold described the scene, saying he saw people from all different lifestyles out celebrating the victory.
"It was all walks of life coming together: kids, adults, seniors, people from the country and city," he said. "I mean every different lifestyle."
Fellow senior Gabe Mason left Baldwin after the game finished and headed to Lawrence for the celebration. While making his way through the masses of people, he managed to find several friends and classmates.
"There were a lot of Baldwin people down there," Mason said. "It seemed like every way I looked I kept seeing people I knew. I would go up to them and give high-fives and celebrate with them."
It's not a secret that KU basketball takes precedence in Lawrence and has for decades. BHS senior Dan Glover has lived in Kansas for seven years, after moving from Texas.
Since moving here, he has became a Jayhawk fan and tried to adjust to loving basketball over football. It wasn't until Monday night that he realized just how overpowering basketball is in northeast Kansas.
"It was great. I loved it," he said. "It's amazing how huge basketball is here. I knew it was going to be wild, but not like that. It was so much fun."
Some BHS students even partied downtown Lawrence on Saturday night after Kansas beat North Carolina in the national semifinal. The Jayhawks beat former KU coach Roy Williams that night.
"It felt nice, because I've never liked North Carolina," Lynch said. "Then with the whole rivalry with Williams and the lasting anger at him, but this puts that away. It felt good to beat them."
Saturday was prom night for Baldwin High, but Lynch made a decision to watch the game over dressing up for his final BHS prom. Some students came down from the KU campus after prom finished Saturday to celebrate the Final Four victory.
Lynch said even more people flooded downtown Lawrence after Monday's victory than did Saturday.
"There was definitely more people than Saturday," he said. "Each block was somewhat filled up on Saturday. When I got down there Monday, every block was packed to the brim."
Even though the celebration was wild, yet safe, not all of Monday was happy-go-lucky for KU fans. The game provided plenty of opportunity for an emotional roller coaster.
Kansas led 33-28 at halftime, but its lead slipped away early in the second half. Both teams stayed close throughout much of the half, until Memphis began to pull away. The Tigers led 60-51 with 2:12 remaining in the game. It was at that point some KU fans thought their season was going to end in disappointment.
"It was very nerve-racking," Lynch said. "I sat there almost in tears because I thought we were going to lose."
Rockhold said he never gave up on the Jayhawks, but knew they had a chance to rally late in the contest. That's exactly what they did.
Kansas ended regulation on a 13-2 run. Memphis missed several late free throws but made the final one to lead 63-60 with just over 10 seconds left.
KU's Sherron Collins dribbled the ball up court, handed the ball off to Mario Chalmers, who leaped and released a three-pointer over Memphis' freshman phenom Derrick Rose. The shot swished through the net and Memphis missed its last-second desperation shot.
"I knew they had one shot at it," Rockhold said. "After Memphis made that free throw putting them up by three, KU had to go for it. I really didn't know if they would be able to do and when Mario hit that three pointer, my heart just stopped as it sailed through the air. After the nothing-but-net swish, my eyes were glued to the TV. KU was hot at the end and getting hotter."
Kansas went on to dominate the overtime and earn its first championship in 20 years. Many Baldwin fans were fixed on the television Monday night, riding the emotional roller coaster for more than two hours.
Rockhold said his mother was one of those fans.
"It was a great game," Rockhold said. "The best part I have to say is watching my mom. She and my grandma both were hilarious. My mom can't sit still and is constantly yelling at the TV, whether it's a 'woo hoo,' 'come on boys' or 'what was that?' At one point in the game she was up out of her chair standing in front of the TV cheering on her Hawks as my dad and me sat back and got a good laugh at her."
During the closing moments of the game, Rockhold prepared himself for a trip to Lawrence. He said he knew his mother would get emotional, so he had to leave quickly.
"Once KU got a lead and time was about out, I grabbed the camera because I knew my mom would flip out," he said. "She was in tears, she was so happy. I was immediately packing stuff up and running out the door to head to Mass. Street. I crammed in a truck with four friends and we hurried to Lawrence."
Rockhold and many others departed Baldwin for Lawrence, only to return several hours later once the thunderstorms hit the area.
Most BHS students won't remember KU's loss to Duke in the 1991 championship, but they will recall the loss to Syracuse in 2003. However, this one won't be forgotten anytime soon. It's being called 'Mario and the Miracle.'
"It's a great feeling," Lynch said. "I mean we have come so close so many times. To finally reach that threshold of holding the national title is amazing. We can say, 'hey I watched that game, I was in Lawrence, I was downtown and I was there.'"