BHS

track schedule picks up starting Friday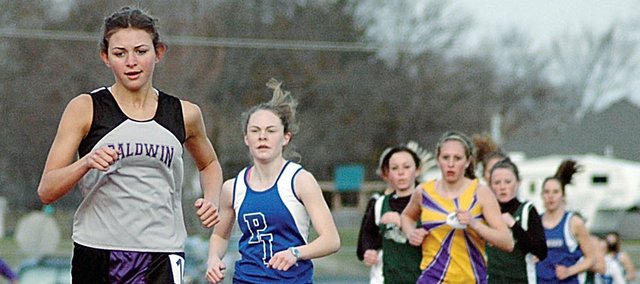 After a two-week hiatus, the Baldwin High School track season is about to speed up quickly.
During the next 12 days, the Bulldogs will be participating in five meets. The first of which will be the KT Woodman Invitational Friday in Wichita.
"It gets kind of crazy after this," BHS boys' track coach Mike Spielman said. "There is a JV meet Monday, Baker Relays Tuesday, next Thursday at Eudora and then at KU next weekend. Everybody will for sure have two meets and some may have three meets next week."
Both BHS coaches are excited about the opportunity to compete against some of the top competition in Classes 3A and 4A on Friday. It will also be the first meet since opening the season with the Baldwin Invitational on March 28.
"The best thing is we get to run where we hope to end up at the end of the year," said Ted Zuzzio, BHS girls' track coach said. "We also get to compete against other schools from around the state."
Wichita State University hosts Friday's meet, along with the state meet May 23-24. Spielman also wants to see how his team will compete against other top teams.
"There are so many good teams there," he said. "There will be 30 teams from 3A and 4A there. It's really nice to see what you've got and where you are at compared to other teams across the state."
After Friday, the Bulldogs will be busy. On Monday, some junior varsity tricksters head to Paola for a meet. Next Thursday, the Bulldogs travel to Eudora for the Cardinal Relays, while a few others rest up for the KU Relays on April 18-19. After a weekend to rest, the BHS teams head to Spring Hill for a small varsity meet.
Since the home opening meet, the BHS coaches have been working their teams hard at practice. They are both trying to get their teams in better shape for the meets.
"We have had some pretty good weeks of practice, so they are ready to have a meet again," Spielman said. "Last week, we had three really good workouts," Spielman said. "They were ready for the weekend to come up.
"They are ready to get out there and see where we are. It's going to be a great meet, because there is a lot of great competition. We get to see other teams and what they have."
For Zuzzio, the weeks of rest hopefully allowed a few younger girls to recover from some injuries, while others became better conditioned.
"We've just been gradually fine tuning, working on technique and getting into more competitive shape," he said. "We've also got a few younger kids that are battling some injuries. Some had a chance to heal up last week."
Both teams will be tested Friday in Wichita and both coaches are ready to see who will step up and lead their team.
"We are getting better in all of the field events and the running events," Spielman said. "Now we just need to see who will step up and take their times and distances to the next level."