'

Amazing' Costa Rica trip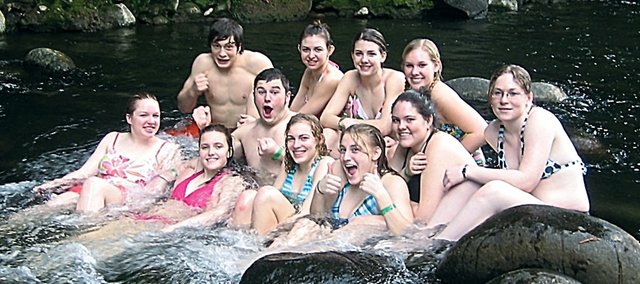 A nine-day adventure through the Costa Rican rainforest included termite tasting, old-fashioned chocolate, swimming in the Pacific Ocean and games of duck-duck-goose.
For 13 Baldwin High School students, it was one experience they won't soon forget.
"It was amazing," BHS junior Nick Barkley said. "It was really a life-changing experience for me."
Of course, Barkley wasn't the only BHS student to enjoy the trip. The group of BHS Spanish students headed to Central America during March for their trip that happens every two years.
The 2008 location was Costa Rica and the students had a blast.
"The trip was amazing," BHS sophomore Krista Seaman said. "Of course I enjoyed it. Someone would be crazy not to."
During their visit, the Baldwin High group stayed in a rainforest for several days, a Spanish Ranch, a hot springs resort and a Pacific island. Each student enjoyed different parts of the trip, depending on what they preferred.
For senior Colby Heckathorne, it was the different culture and lifestyle that made the experience memorable for her.
"It was really fun to see a different culture and to get the chance to experience that culture," Heckathorne said. "I knew it would be a good opportunity to take and I don't get that chance very often."
Not every student had a particular favorite part, though. Seaman enjoyed the entire trip, especially the beach and the family-stay.
"I didn't have a particular favorite part of the trip," Seaman said. "I loved it all. The rainforest was beautiful and I absolutely loved our home-stay family. The last day we took a cruise to a beach and it looked like a beach out of a storybook. It was perfect and we all had a ton of fun."
Welcome to the jungle
It wasn't exactly northeast Kansas that welcomed the BHS students to Central America. Shortly after landing in the capital, San Jose, the group headed for the Tirimbina Rainforest Center, a biological reserve in Costa Rica.
The trip didn't start off well for several students and BHS Spanish teacher Pat Wittry.
"We flew into the capital and immediately got onto some buses and drove on some curvy roads, some very curvy roads," Wittry said. "Several of us got sick on that ride."
A walk through the rainforest did help ease the pain for several of the students. During the first day, the group took a four-hour guided tour through the Rainforest Center.
On the tour, the guide spotted lizards, monkeys and other wildlife. Wittry said the tour was very hands on, which allowed the students to enjoy the experience that much more.
"The rainforest was really hot and sticky," Barkley said. "We saw lots of animals there. It was cool."
Other wildlife sightings included birds, especially bright-colored toucans.
"We saw lots of toucans," Wittry said. "That's pretty common and they are easy to see flying in families. We saw some monkeys, lots of lizards and some snakes. We tried to find bats, but never found any."
Then there were much smaller creatures that became part of the rainforest experience. Those critters can also be found in Kansas termites.
They weren't necessarily for watching, but more so for tasting.
"The first thing he did was have us eat termites, for those willing," Wittry said. "They taste a little bit like wood. They weren't all willing to do it."
Heckathorne agreed, but wasn't sure how she knew what wood would taste like.
"It was weird, but it tasted like wood," Heckathorne said. "I don't know how I would know that, but that's what it tasted like."
On the opposite end of the food chain, there was a giant snake that Barkley interacted with. It was one experience he won't forget.
"I got to hold a 22-foot albino Burmese python," Barkley said. "I even went in the cage and kissed it. I love snakes."
The following day was much of the same, but it included swimming in a river, walking through the canopy, a bat program and a stroll through the rainforest during the night.
"They took us out at night on some very country roads to look for frogs," Wittry said. "It was the end of the dry season and it was particularly dry so we didn't find a lot of frogs. Some of them did find more than others. It was very dark and there wasn't much of a trail."
The last day in the Tirimbina Rainforest Center was one that featured a tour of a plantation for a product everyone is familiar with.
Old-fashioned chocolate
A popular attraction in the TRC is the chocolate tour. It takes visitors around a cacao tree plantation, exposing them to the history of the plant. Once they reached the plantation, the tour guide revealed the secret of transforming the cacao fruit into chocolate.
"It was very interesting," Heckathorne said. "They did every step of the process. I have no idea how they figured out they could do that."
Wittry purchased a full chocolate bar from the plantation, but she said it wasn't like the ones we are used to. The taste was similar, but noticeably different.
"They took us to an old caucau ranch in the rainforest that was no longer running," Wittry said. "They use just the few trees that are still there to make chocolate in the old way. They went through the whole process and we were able to taste it during the process.
"It used to be for royalty and it doesn't have any sugar in it," she said. "It was very bitter even at the end, because it has no sugar in it. You can tell it's chocolate, but it's very bitter."
Heckathorne agreed with her teacher about the taste.
"It did taste like chocolate, but it was stronger and bitter," Heckathorne said. "It was very different from a chocolate bar. It's hard to describe."
Rancho de Espanol
After leaving the TRC, the BHS group headed to a Spanish ranch that is now a school for English-speaking visitors. They didn't take any language classes, but instead learned to salsa dance.
The students made presentations each day at the school about different things, usually about the food they prepared the night before with their host families.
"When they took the cooking class, they cooked at home with the families," Wittry said. "The families taught them how to make the dish. Then they brought it to the school and had to explain how they made the dish. It was challenging."
One memorable experience came at a school they visited. After speaking to the Costa Rican students about Kansas, it was time for games. The activity of choice was one familiar with local elementary students.
"We visited a school and the students broke up into groups of two or three," Wittry said. "They told the kids about Kansas and practiced their Spanish. Then they played games with them and duck-duck-goose seemed to be the most popular one."
Barkley enjoyed the game, despite having to give instructions in Spanish.
"We got to interact with the kids and try to entertain them," he said. "We played duck-duck-goose. It was hard to explain in Spanish. That was a chore. You would get halfway through a sentence and realize you don't know what you're talking about."
At night, the students were divided up into small groups and stayed with host families. That was another time that only Spanish could be spoken.
"It was tough at first speaking Spanish all of the time," Barkley said. "Once you got with the host families, you had to speak Spanish, because they didn't know any English. It wasn't too bad once you had to speak it out of necessity."
Seaman actually enjoyed speaking Spanish most of the time she was there. But she was also a fan of the country itself, too.
"The climate was absolutely perfect and some of their lifestyles were very interesting," she said. "Also, it was fun speaking in Spanish nonstop, rather than boring old English. I miss it and wish I could go back."
Tourist attractions
Like any other vacation, this group found a few popular destinations for visitors. A couple of those included a hot springs resort and a coffee-making tour. Wittry enjoyed both.
"Each day we would do different things," Wittry said. "We went on a coffee tour. There was a show, where they teach you about how coffee is made. They take you through the plantation and make jokes along the way. That was fun."
"We went to the hot springs resort," Wittry said. "It was very different than the rain forest, but it was right below the volcano that has been active since 1968. You can see the smoke coming out of it. The water was warm and there are lots of things to do there."
It was the volcano that had Wittry excited.
"After the buffet, the bus driver took us down a dirt road to an area where you can see the volcano at night," she said. "We were fortunate it wasn't cloudy, which it often is. We were maybe a mile away from the crater and you could see the hot, red lava.
"At night you could even see it erupting a little and falling down on the rocks," she continued. "It wasn't exploding, but it was flowing down the side of the volcano. It was amazing. Even the Costa Ricans said we were lucky to see it, because it's often so cloudy. We kept telling the kids to just look at it, not take an pictures, because there were so many flashes going off."
One of the final hot spots for the BHS group was an island off the west coast of Costa Rica. It was the first time some students had a chance to swim in the ocean.
"We went on a boat to a little island on the pacific coast on our last day, just for a few hours. It was beautiful. We swam on the beach. Some of the kids had never been to the ocean before, so it was amazing for them to go to such a beautiful place like a tropical island."
Cold return home
Like every great vacation and story, there had to be an end. This one was particularly sad as the group left a warm, tropical Costa Rica for a cold and snowy Kansas. No one enjoyed the end of this saga.
"It was really sad to leave," Heckathorne said. "It was so pretty down there and the weather was great down there. It was sad to come back to the Kansas weather."
Seaman was extremely gloomy about ending her Spanish trip.
"Yes it was extremely sad to leave and come back to Kansas," she said. "Some were excited and ready to go back, but I travel a lot by myself so I am used to being away from my family and I wanted to stay longer. Costa Rica was perfect in comparison to Kansas. We left the perfect warm climate for weather that could bring snow and in my opinion that is a downgrade."
Although the end was sad for many, the experience of nine days in Costa Rica won't soon be forgotten.
"I've never had an experience with the kids like that, where you spend several days in a place like that," Wittry said.