Work on new
U.S.

59 will heat up with weather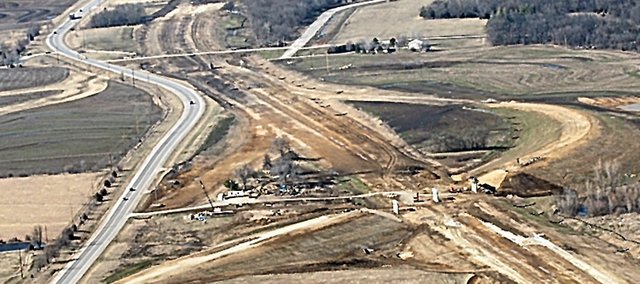 A wet winter slowed progress on construction of the new U.S. Highway 59 but the work pace will increase as the weather warms up, a spokesman for the Kansas Department of Transportation said.
"They are still in pretty good shape," KDOT's Stan Whitley said. "If they get decent weather this spring, they'll be on schedule."
Construction began in spring 2007 on the new $240 million, four-lane highway that will connect Ottawa to Lawrence. It will replace the two-lane highway where a number of injury and fatality traffic accidents have occurred. It is expected to be complete in 2011.
The first phase of construction involves grading and bridge work in Franklin County. The grading of the new highway currently ends about 4 miles north of Ottawa. The phase is expected to be completed in spring or summer 2009.
"The bridges are something you can usually work on when the weather gets colder, but it's kind of hard to do when it is muddy," Whitley said.
A bid-letting for paving of 7.6 miles of the Franklin County section of the route will be in December, Whitley said.
In November, a bid-letting for surface grading in Douglas County will be held. The Douglas County section of the highway will run to just south of Lawrence where it will connect with the existing four-lane highway.
The highway will have seven interchanges - four in Franklin County and three in Douglas County.
"It's going to be a tremendous safety enhancement," Whitley said.
Once the new highway opens, the old, two-lane highway will be controlled by the counties instead of the state.