Softball squad sweeps De Soto, swept by Ottawa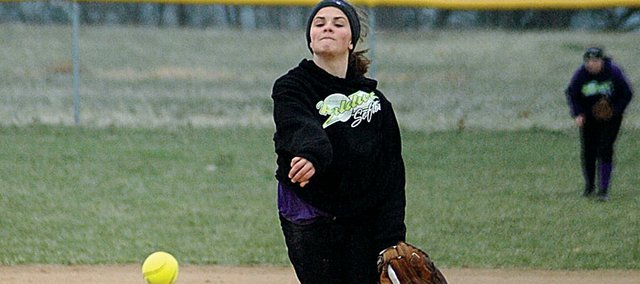 Two home doubleheaders. Two different opponents. Two completely opposite results.
The first night was a success, while the second was far from it.
A season that began with such promise was jolted back to Earth Tuesday. However, it wasn't all negative for the Baldwin High School softball team when it lost both contests to Ottawa.
"We got beat by a team that hit very well," BHS coach Ginny Honomichl said. "I told our group that if we had six outfielders, we might have been able to get them out more often. I didn't think we settled after they scored on us early. We made hits and played solid defense. There were a lot of positives from these games."
After sweeping De Soto last Thursday to open the season, the Bulldogs were swept themselves by the Cyclones Tuesday. The first doubleheader saw the Bulldogs win 16-1 and 9-3, while they suffered 11-0 and 13-1 losses in the second twinbill.
As expected, Honomichl's demeanor was vastly different after the pair of doubleheaders.
"It was great," Honomichl said last Thursday. "We swept the varsity and junior varsity. It was a clean sweep by both teams."
"The nice thing is usually we have to play Ottawa at the end of the season and this makes us feel really bad," she said. "This just made us mad. We have the rest of the season to get better."
The opening contest couldn't have begun much better for the Bulldogs. They produced 12 runs in the first inning, which set the tone for the rest of the afternoon.
Nearly every BHS player scored during the bottom half of the opening inning. The Wildcats aided the Bulldogs with a couple of wild throws or errors, but BHS kept putting the ball in play with each at-bat.
"Offensively we destroyed them," Honomichl said. "We were hitting the ball very well. I think we went around the line up twice in the first inning. I'm sure it was a surprise to De Soto, because it definitely was a surprise to me that we got up that much. That's not going to happen very often, but if it happens once in a season, you'll never forget it."
Baldwin scored four more runs a couple of innings later to earn a run-ruled victory.
"I think it was a great start to the season," sophomore MacKenzie Flory said. "It gave us that extra umph to get us ready for the rest of the season."
It wasn't just the offense that pleased Honomichl. She was also happy with her team's fielding, for the most part.
"Offensively, we hit the ball pretty well," she said. "Defensively, we did a pretty good job there, too. We did make a couple of unadvised throws, but I understood what they were for. It might be a little too early in the year for trying to do some of that, but I can't fault what we were thinking. It's just when those throws happened, we had unearned runs scored on us."
In the second contest, De Soto started the game by taking an early 1-0 lead. That didn't last long, though. Baldwin rallied with three runs in the bottom of the first inning and never trailed after that inning.
The Bulldogs added six more runs while De Soto did score two more. One highlight from the second game was a home run by freshman Lindsey Roberts. Her shot cleared the center field fence on a near-freezing day with a north wind blowing.
"I have never heard a ball come off any of our players' bats that sounded like that," Honomichl said. "That just exploded and it kept going up and up and up. It wasn't a matter of it was going to clear the fence, but whether it would hit the truck parked out there. Oh my, that was just awesome to see and hear.
"She was so new at it, when we asked her if she wanted the ball, she didn't know what to say," she said of Roberts. "Alex Zordel told her to take the ball and give it to her mom."
Senior Callie Craig pitched both games for Baldwin. On Friday, Honomichl talked to her star pitcher, who was more fatigued than she imagined she would be after leading the Bulldogs to a pair of victories.
"She got warmed up in the first game and said she wanted to pitch the second game," Honomichl said. "She felt pretty good, but her forearm and wrist were a little sore today. She didn't realize that she threw a lot of pitches.
"I love coaching her and calling the pitches for her, because 90 percent of the time, where you call it, it's going to be there," she said. "It makes the job of a catcher and her teammates a lot easier. She's a competitor."
The Bulldogs play host to Hays at 3 p.m. Friday at the BHS ball fields. Then they travel to Spring Hill on Tuesday. That doubleheader begins at 4:30 p.m.
"We are looking forward to Hays," Honomichl said. "For one, it's nobody that is from around here. They always bring a quality team and recently we've been able to sort of win a few of them. Hopefully, we will get back on that track Friday."