Festival a Harris life saver
Wellness Festival
PSA

test was just in time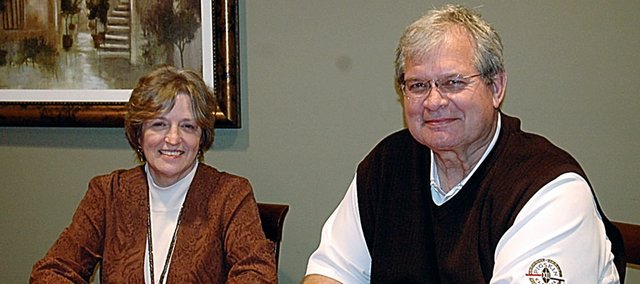 A year ago Monday, Dan Harris' life changed.
He was attending the Community Wellness Festival, as he has for several years. After doing his blood work at the annual event, one of the tests alerted Harris to call his doctor in Lawrence.
It was the Prostate-Specific Antigen test.
"The PSA measures the changes in the prostate, especially for cancerous cells," said Harris, Baker University Athletic Director. "Men over 40 need to do that. Mine was normally around 1.8 or 2.1, which is pretty normal and pretty consistent. Then one lovely Saturday morning, a year ago, I got a prostate assessment of 7.4."
After years of normal PSA results, Harris quickly made the decision to contact his doctor. He was transferred to a cancer specialist in Lawrence, who ran some further tests on him. Harris returned to the specialist the following day, only to hear the tragic news.
"Doctors are known for their straight-forwardness and just telling you the facts," Harris said. "He looked me straight in the eye and said, 'Dan you have cancer.' That was probably one of the most devastating things to have anybody say to you when we have the knowledge that we do about cancer and its devastation.
"I had a father that I watched wither away and die of lung cancer," Harris said. "I knew what it meant and I just sat and stared. I was nervous, full of anxiety and scared. I was also anxious about the next step and what are we going to do about it."
What was next?
The next step for him was to visit another specialist at the University of Kansas Medical Center in Kansas City, Kan. There he talked to a world-renowned prostate surgeon. They both decided Harris should have his prostate removed, along with the cells around it to hopefully prevent any more cancerous cells from spreading.
Harris went into surgery soon after the decision was made and he's been back for checkups. Those have been successful and he is currently healthy and enjoying life.
"I had the surgery and I've done a one-month, three-month and six-month checkup," he said. "All of those tests have been good. In fact my PSA scores have been what they call 'undetectable,' which means that I should be completely rid of the cancer cells."
Ruth Sarna, Baker University director of student health services and festival coordinator, was sad to hear about Harris but pleased he has recovered.
"It's sad that we find out things that are sad news, but it's good that we have these kinds of things available," Sarna said. "We're glad that the end result is good and that he's had some good recovery," she said. "We are just glad he is doing well."
Regular attendee
Harris knows that he might not have discovered that his prostate was cancerous, if he wasn't an annual attendee of the Community Wellness Festival. The importance of checking his body and being healthy has taken on a whole new meaning in his life during the past 12 months.
"I've been a life-long attendee of the Wellness Festival since we've had it here," Harris said. "Primarily, because I support Ruth Sarna's activities. Also once you hit that magic age of 40, you are told by doctors to start monitoring yourself and checking things.
"Had it not been for that test score going up that high, I wouldn't have known about it," he said. "I was feeling fine. I was feeling healthy. I wasn't feeling any symptoms of any prostate swelling."
Of course, he plans to attend this year's event, which is being held Saturday at Collins Center, located at the corner of Sixth and Fremont streets. It begins at 9 a.m. and ends at noon. It will be the sixth annual Community Wellness Festival.
The festival is free and open to the public. The usual assortment of free health screenings will be offered. Those include blood pressure, posture check, body fat, bone density, hearing, vision and lung volume.
Around 65 exhibitors will be at the festival with information and screenings for everyone.
"We offer all of these screenings, because if something is detected, they can seek immediate medical help and get the assistance they need," Sarna said. "It's an excellent opportunity to take advantage of. We thought about the slogan of 'Feeling Great in '08.' Hopefully, people will take advantage of the festival."
Prior experiences
Even before last year's event, Harris has been able to improve his life with information he gained at the festival. The free screenings tipped him off to see his doctor, which has helped him live a healthier life.
"I was going in and doing my annual blood work, checking the prostate, checking my body fluids and all of that kind of stuff," Harris said. "My readings were pretty good, for the most part. There were some changes in life, like cholesterol and blood pressure that require some medication. I found some of that information at the Wellness Festival and I took that to my family doctor."
There will be free t-shirts for the first 200 visitors. There will also be drawings for prizes, including two children's bicycles and one adult bicycle. Children accompanied by an adult can receive a free bicycle helmet.
After an episode of cancer, Harris fully understands the importance of an event that is so accessible and close to home. He also keeps the information that is distributed to him at the festival.
"I think the education is also an important part of the wellness festival," Harris said. "Not only do they take your blood, they give you plenty of handouts to read. Usually you take them home and throw them in the trash, but today I take them home and read them. They do educate you a lot about the things that you need to know."
"It's a great service for the community," Harris said. "It's well attended and there are a lot of booths there. It's a healthy thing for a community to think about and take advantage of. The price is worth it, too. It's a pretty valuable experience."