BHS

pommers earn awards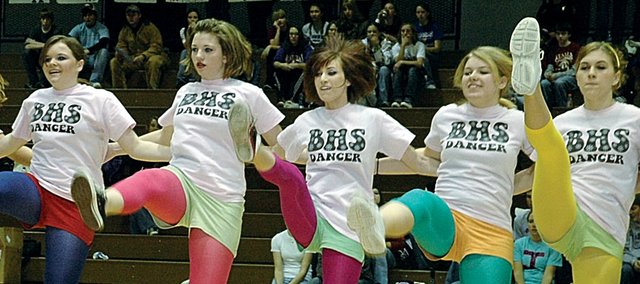 The Baldwin High School pom squad has had a busy and award-winning year.
At the Five Star Production Festival held at Olathe High School, the squad earned a 1 rating and the showmanship trophy.
At the Wellsville Classic Festival, the squad also brought home a 1 rating, the showmanship trophy and the choreography trophy. Squad captain Maddy Roger earned a 1 rating for her solo performance.
The squad also performed at the Baker/Baldwin High School Festival and earned a 2 rating. Roger earned a 1 rating on her solo performance, Skylar Parott earned a 2 rating and Jalinn Sommer received a 3 rating.
In addition to these performances, the squad performed at all home varsity football and basketball games, marched with the BHS band at the state fair and the Maple Leaf Festival and performed at the Class 4A boys' basketball championship game in Salina.
Squad members are Roger, Emily Hoehn, Kayla Knoll, Sommer, Morgon Burton, Parrott and Kayla Walters. The squad sponsor is Gayle Dempsey.