BHS

girls cruise to

BIT

victory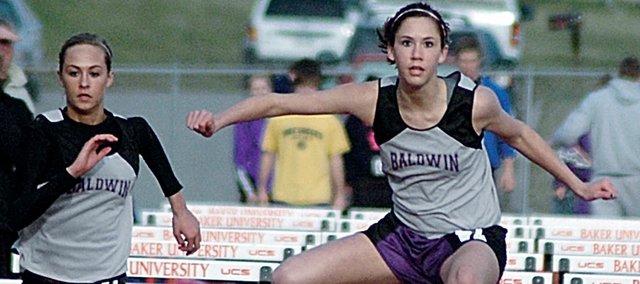 One word described Ted Zuzzio's emotions after the season-opening track meet - excited.
He was thrilled about the performances of his Baldwin High School girls' track team members. The BHS coach was excited to win the Baldwin Invitational Friday night in convincing fashion.
"I thought we had a great meet," Zuzzio said. "We had some very nice surprises with how competitive some of our younger kids were. Overall, the whole team just showed up and competed."
The BHS girls' team scored 143 points, which crushed second-place Eudora (99) by 44 points. De Soto finished third with 81.5 out of the 13 teams that competed Friday.
"We did really well as a team," senior Courtney Harris said. "Everybody pitched in. It wasn't just like a couple of races, because the field events scored, too."
Baldwin won six events and scored in 16 of the 19 events. In all, 11 Bulldogs medaled at the opening meet of the season.
"It excited me," Zuzzio said. "We are scoring in some events we haven't scored in during the past couple of years. That's exciting."
Winning her three individual races was senior standout Heather Garcia, a multi-state champion in the 1,600 and 3,200-meter races. She won the 800-meter run (2:30.58), 1,600 (5:37.21) and 3,200 (12:32.54).
"It was good to start running and competing," Garcia said. "I wasn't running for time or anything. It was just nice to get out there and compete. It's nice to know I've still got it, I guess. It's a nice feeling.
Another victory in the long-distance events came in the 2,000-meter steeplechase. In fact, BHS swept the event. Junior Corinna Papps won the race in a time of 8:28.03. Sophomore Connor Twombly (8:34.14) and junior Calleigh Durr (8:38.09) finished second and third.
"Steeplechase was big," Zuzzio said. "They went one, two and three there. For the amount of practices Garcia had before the meet, she did a wonderful job."
The other individual winner for Baldwin was senior Courtney Harris. She won the javelin with a toss of 124 feet, 2 inches. Fellow senior Colby Heckathorne finished third in the event by throwing 105-1.
"It felt good," Harris said. "I thought it was a good way to start the season. I threw just a little bit shorter than my PR so that was nice."
Some other highlights for the Bulldogs came in the hurdle events, the discus and all three relays. Freshman Allison Howard placed third in the discus with a throw of 107-6, which was less than two feet from winning the event.
Two other BHS freshmen placed in the 100-meter and 300-meter hurdles. Ramie Burkhart finished runner-up in the 300 hurdles (51.31) and fifth in the 100 hurdles (17.29). Lyndsey Lober placed sixth in the 100 hurdles in a time of 17.84. Papps also placed eighth in the 300 hurdles (55.29).
"It was way different than junior high," Burkhart said. "It was much different, but it was good, I guess. I was very surprised about that one (300 hurdles), because I had only worked on it a couple times at practice. That was pleasing for me."
Baldwin also placed high in every relay. The 3,200-meter relay beat its nearest competition by nearly 23 seconds as it ran 11:03.92. The relay members were Papps, Durr, Twombly and sophomore Julie Hill.
The 1,600-meter relay finished runner-up to Eudora as it ran 4:25.10. The Cardinals ran 4:24.42 to win the final event. The BHS team consisted of Garcia, Burkhart, Lober and Harris.
"The most exciting race was the 4x400, because it's not just me," Garcia said. "I am not used to that, but it's cool. I really like being on that team and we ran really well."
The Bulldogs' 400-meter relay team placed fourth as it ran 54.07. Its team members were freshman Myranda Behrens, sophomore JaBryanna Wellington, Burkhart and Harris.
"That is where we are excited," Zuzzio said of the hurdle events. "That and the girls' discus. We did well in the javelin, too. Those are events that have us excited. We did well on the track. All three relays ran well and we're going to get better. That's what is exciting."
BHS has two weeks between its first and second meets. It will next compete at the KT Woodman Invitational on April 11 in Wichita.
"We are getting ready for KT, which is a big meet," Garcia said. "It will be a hard meet as always."
Until then, the Bulldogs will be conditioning hard at practice.
"We will be getting in shape," Zuzzio said. "We aren't in shape yet. We have kids that like to compete and that's exciting."