Baldwin City woman wins $20,000 lottery prize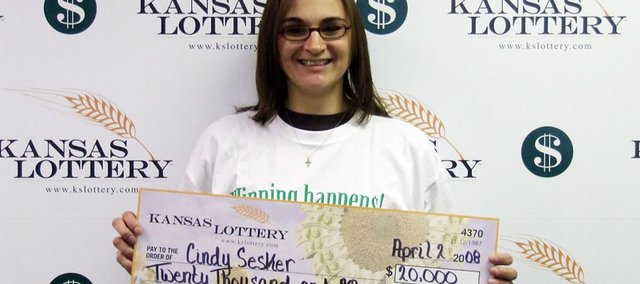 Two doughnuts and a winning lottery ticket, please.
Cindy Sesker, 33, of Baldwin City, treated herself and a co-worker to a doughnut Saturday at Santa Fe Market Inc., a convenience store in Baldwin City.
"I had four bucks in my pocket, I bought my friend and I each a donut and I had two bucks left," Sesker said.
She was killing time visiting her friend Jakki Farrington, 24, who was working a long shift that day, so she had her select a $2 scratch ticket for her to play, something she rarely does, Sesker said.
Farrington chose a Bonus Crossword scratch ticket that Sesker completed at the store.
"I told her (the code on the bottom of the ticket) and I said it's probably a loser, but we checked it anyway," Sesker said.
The code revealed she needed to go to the Topeka lottery office to collect her winnings.
"We were kind of freaking out then," Sesker said. That's because she knew it had to be at least $600 if she was supposed to claim the money at the Kansas Lottery Headquarters in Topeka. They scratched off the rest of the ticket and realized what her friend had handed her was a $20,000 winning ticket.
When Sesker went home, her husband was online looking at headlights for his Corvette. Sesker broke the news by telling him she could afford the lights and then showed him her winning ticket.
On Wednesday, Sesker drove to Topeka to claim her winning prize. She came home with a large cardboard check, which she put on the stairway banister in her home to surprise her three children - ages 12, 9, and 5 - when they returned from school.
"I think they are going to start pounding out the list," Sesker said. "They will be jumping up and down and saying, 'Can we get this? Can we get that?'"
Sesker said she plans to buy a computer for the family and put most of the remaining money into savings.
Her friend Farrington, a Baker University freshman, is getting a steak dinner and a movie for her lucky pick. "It's works for me. I'm happy for her," Farrington said.