NFL

coach returns to his alma mater
Mike McCarthy enjoyed one day away from the high-stress world of the National Football League.
He spent a full day at his alma mater talking to old teammates, watching his former team and being inducted into the Baker University Athletic Hall of Fame.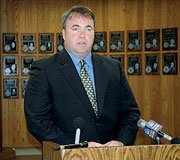 His official induction took place at a special luncheon at the Collins House. Then he held a press conference in the Hall of Fame rotunda in Collins Gym. McCarthy was inducted in the 2007 class with five other Baker greats that were honored Oct. 6.
"This is a special honor," McCarthy said. "This is truly an honor for me and my family. When I came back here today, it's amazing how much this place has grown. This will always be a special place for me."
McCarthy was able to make it to Baldwin City for a day because his coaching duties were a little lighter as the Green Bay Packers had a bye week Sunday. He took over as head coach of the Packers in 2006.
Although it was McCarthy's day at Baker, his former teammates and coaches were thrilled to see him back in town. Baker Athletic Director Dan Harris, who was on the Baker coaching staff from 1985-86 when McCarthy played tight end at Baker, said Saturday ranked up there in the highlights of his life.
"It was beyond special," Harris said. "It was one of the highlights of my life as far as my athletic career. To have somebody reach the pinnacle of coaching and sit in the desk of Vince Lombardi and then say I coached that guy is sort of impressive."
Baker football coach Mike Grossner played with McCarthy at Scottsdale Community College in Scottsdale, Ariz. Although, the two coaches remain in contact, Grossner recognized how special this weekend was.
"It was a great day," Grossner said. "It was nice to see him at the luncheon and get to talk to him there. Then he got to witness his old team play. He gave a pre-game speech, which was very neat for the players. He really hit home on some of the finer points we've been trying to stress to them, but it's nice for it to come from the Green Bay Packers' head coach. I think he really enjoyed himself."
Press Conference
Before McCarthy could visit with many of his former teammates and coaches, he addressed several members of the media at his press conference. He answered a few questions regarding his former coach, his quarterback Brett Favre and going back into Kansas City's Arrowhead Stadium.
When asked what it was like to play for Charlie Richard, former Baker coach who was inducted into the College Football Hall of Fame in South Bend, Ind., McCarthy said he always felt confident the Wildcats were going to win.
"One thing about playing for Charlie Richard was when you went out on the field, you always felt you had more talent than the other team and you always knew he had a couple trick plays up his sleeve," McCarthy said. "There was just an aura of confidence when you took that football field.
"There was a lot of confidence and I point more toward the '86 team, because the chemistry on that team was something special," McCarthy said. "That had a lot to do with our success of getting to the national championship game."
He was also asked about Favre, the Packers' quarterback, who will undoubtedly be inducted into the NFL Hall of Fame after his career is over. McCarthy was asked if Favre was as good of a guy as he seems to be.
"Yes he is," McCarthy said. "He is a joy to work with. He is a positive challenge and I enjoy our working relationship."
He went on to say that he knew Favre was special when he was quarterbacks coach for the Packers in 1999.
"In 1999, he was the most talented quarterback I've ever been around as far as the way he threw the ball," McCarthy said. "I've never seen an individual throw at the velocity that he does. Now, almost 10 years later, he still has plenty of arm strength and he is playing within himself and the system. He is a great football player and will do anything it takes to win the game."
Another question he answered was about how he would feel entering Arrowhead Stadium for the Nov. 4 contest. McCarthy was the Kansas City Chiefs quarterback coach from 1995-1998.
"Walking back into Arrowhead Stadium will be another special moment for me, because I haven't been back there since I left in 1998," McCarthy said. "I am looking forward to that, but once we kick the ball off I will forget all of that. But, I am looking forward to coming back to Kansas City."
His final question at the press conference was about Baker's kicker, Derek Doerfler, who has kicked a 62-yard field goal this season along with several from beyond 50 yards.
"I talk to Mike Grossner regularly so I know he had three big field goals a week ago," McCarthy said. "I'm excited to see him play and see the stadium. He is a talented kicker only in his second year of kicking, so it sounds like he has a bright future ahead of him."
Revisiting Liston Stadium
Directly after his press conference, McCarthy, his former teammates and several Baker officials headed to historic Liston Stadium. It was the first time for him to see the stadium's renovations and artificial turf.
While there, he chatted with Grossner and other teammates for a while and just relaxed on his former playing field.
"Anytime you can get together during the season, it's a luxury," Grossner said. "We were lucky to get him down here on an off week and we are lucky his team is doing well enough that he felt comfortable to get away for a little bit. It was nice for him to get away from the NFL stress."
McCarthy even held a brief autograph session in which he signed about 10 articles of clothing, mostly hats or jerseys. He also met with the Baker news students for a short interview on the field.
"Mike was so personable and willing to talk to people and sign autographs," Harris said. "He took pictures with people all day long. I know it was a long day for his parents and his daughter."
After his trip to Liston, McCarthy went to Harris' house to relax before the Wildcats' football game that evening. Harris said his former player had a blast hanging out at his house with old teammates.
"He came over to the deck of my house and we had 15 or 20 of the old players over there," Harris said. "We sat around and told old stories. That was one of the most fun parts of events like that. Mike himself even said one of the most enjoyable parts was just relaxing with the guys on my deck."
His final time at Baker was spent at the stadium watching the current Baker team play Central Methodist. The Wildcats won 13-7.
"I wish we could have played better for him," Grossner said. "But, hey, we got the win and he knows it's all about winning."
McCarthy then headed back to Green Bay, Wis., to continue his busy life in the NFL.
"I think Mike's journey to get there is an amazing story in and of itself," Harris said. "He is so committed. He is such a winner in everything he does. What's amazing is he has had success everywhere he has been."