Just a few terrible tornado oddities
As I continue to sift through the amazing story of the Greensburg tornado, there have been some oddities that jumped, as well as many observations shared from the many Baldwin City residents who have braved their way to help out in that ravaged town.
They've kind of just pieced together, but really hit me between the eyes Wednesday as I edited office manager Karen Wooge's "Remember When" history feature that's in the Signal every week. The last major tornado to hit around Baldwin City was in 1977 near Vinland.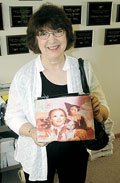 It leveled homes, farms, trees, vehicles, you name it, such as happened in Greensburg where 95 percent of the homes were destroyed. Thankfully, no one was killed and there was only one injury. The date of the tornado? May 4, the same as this year's Greensburg F5 killer twister.
What if that tornado had chosen Baldwin City rather than Vinland? It's only a few miles away. Tornados are just that way. Ask Greensburg. It's in the middle of nowhere in western Kansas. Had that tornado gone a mile or two in either direction from it, we're talking about damage such as Vinland instead of what we have. Just a thought.
I still haven't made it out to see the devastation there. The town and U.S. Highway 54 through it are still closed. Although I could go there as a journalist, part of the reason for going is to keep going west after seeing Greensburg to go home to Liberal. When U.S. 54 is open, I'll head that way.
Besides, my curiosity has waned. That happened after a visit from Baldwin City resident Jim Williams who stopped by the Signal Friday afternoon. I didn't know it until earlier that day when his wife, Krystal, told me he was in town. He's the assistant director for the Federal Emergency Management Agency in the state of Kansas. The Signal had done a story on him several years ago when he retired from the military. I didn't know he was working, much less with FEMA.
He had been in Greensburg since just after the storm and brought a video of the destruction for me to see. Wow. I was able to see many of the things that I'd wondered about, having traipsed through that town since I was a tot. His video was heart wrenching. The brief clips that I'd seen on television didn't do it justice.
One of the things I'd wondered about was the John Deere dealership, one of the flag-ships of the rural town. Yes, it was torn up, tractors tossed around and combines with massive damage. He admitted that his video really didn't do the damage there justice.
He also had footage of the endless parade of military and Kansas Department of Transportation trucks hauling debris to the burn pits, which anyone who's been out there mentions. A massive project and a massive case of a city gone to waste. I thanked Jim for sharing, but also told him his video made me sick.
"I know," he said. "I don't know how many more times I'll be able to show it."
Other locals who have been out there include a trio of city employees, including Code Enforcer Tina Rakes, who is on a state-wide emergency team to inspect buildings after disasters such as this. She was there the day after the tornado and made a return trip, too. She told me there wasn't much to her work. It was pretty easy to condemn the houses and other buildings that had obviously been made uninhabitable by the fury of the 200-plus mph winds. But, like me, it hit close to home to her. She's from Cimarron, a fellow western Kansan. I didn't know how she'd answer when I asked her how familiar she was with what Greensburg had been like.
"I've been through there so many times I could drive it in my sleep," she said.
I know the feeling.
Our State Rep. Tom Holland went out to help, along with his son as part of the AmeriCorp. He's put pictures up on his Web site and one of them showed the John Deere Dealership more up close and personal. Amazing.
I've also been amazed by the numbers of e-mails regarding assistance to Greensburg. There are at least four or five a day. I don't remember that with Hurricane Katrina. I about fell over with one of them this week. The American Red Cross has received so many donations for Greensburg it doesn't need anymore. I've never seen that. The Red Cross suggested donations to other organizations. If you haven't donated to the Baldwin City Cares Foundation, do so. The needs out there are many.
But, there's one oddity that keeps coming back to me. It's the Wizard of Oz purse that was found in the rubble around Marsha Klein's Greensburg home. Baldwin City residents Ron and Mary Lou Klein had gone out to help with the cleanup. Mary Lou, shown holding the purse at right, said that when the purse was found, her sister-in-law said she'd never seen it before and never wanted to see it again.
I can't blame her. That's why it's here in Baldwin City. An oddity of a most odd tragedy. Such are tornados.