District 'state' on a breakfast plate
Community members, a breakfast buffet and Supt. Paul Dorathy helped the Baldwin Education Foundation raise nearly $2,500 last week.
More than 125 Baldwin City patrons attended the first-ever State of the District Breakfast last Thursday. It is hoped to become an annual event. The proceeds went to BEF to help fund the innovative project grants, which will be awarded in September.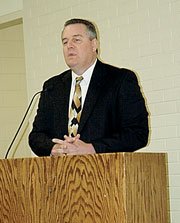 "We were very excited about our turnout," BEF Director Kathy Gerstner said. "It was a great event. We are making it an annual event. We are very excited."
Several businesses or groups came out to support the district. Seven sponsors purchased full tables at the breakfast.
"We had a tremendous community turnout from all spectrums," Gerstner said. "We had businesses and community groups purchase tables. We had a great number of faculty and staff here supporting our district."
Baker University provided its Harter Union cafeteria and food for the breakfast. Gerstner was thrilled with Baker's cooperation in the event.
"What a great community partner," Gerstner said. "We couldn't be more delighted with everything Baker has done for us. The breakfast was so tasty. Luckily, it was their spring break, so we didn't have any interference with their students. We are lucky to have them here in our community."
The breakfast lasted nearly an hour. After everyone ate their meal, members of the Baldwin High School choir sang two songs.
Gerstner then introduced Dorathy. He spoke for about 20 minutes about the past, present and future of the school district.
When discussing the past, Dorathy briefly talked about the $300,000 shortfall that was discovered in July. He said the budget will improve next year after an extremely tight budget this year.
"I feel it will improve," Dorathy said of the budget. "It means a little belt tightening. We will be setting up a plan on how we want to spend our money in the next few years."
Dorathy said the district is presently forming a budget committee to help with next year's financial situation.
"This spring we are forming a budget committee, which will include patrons and staff members," Dorathy said. "They will sit down and look through our entire budget. Then, they will make recommendations to the board about what is important and what we may have to take out. That is an attempt to try and make that process very transparent, so that everybody has a chance to put their input into that."
Then, Dorathy brought up the future of the district. He said the district must hire the best educators and provide them with the best possible working environment.
"I have a vision for the Baldwin City schools," Dorathy said. "That vision is that I want this to become an exemplary district in the state of Kansas.
"To make this an exemplary district, I believe that starts with the most important person in education and that's the teacher in the classroom," he said. "We should have the best teachers in the state. In order to do that, we must have competitive salaries, provide effective training, provide resources necessary to complete that and provide a positive working environment."
Dorathy also touched on the subjects of technology and facilities during his speech.
"We must effectively study and plan for efficient use of our facilities," Dorathy said. "The board has retained the services of the architectural firm DLR Group to lead us through the development of a master plan. I think you will see in the near future a request from the board of a well-studied plan for some facilities in this district.
"We must effectively use technology," Dorathy said. "That is a necessity for the future of Baldwin schools. We are currently developing an aggressive five-year plan to place us on the cutting edge and prepare Baldwin students for the working world and post-secondary education."
Two other items that were briefly mentioned in his speech were communication and curriculum, which both need improving, according to Dorathy.
"Communication in this district needs to continue to improve," he said. "We must be more open and more transparent of what we are doing. We must use as many modes of communication as possible to do that. We have improved the Web site significantly. We are working on making it easier to access information on there. We are always open to suggestions on what we might add to that. The more you know the better off we are.
"We must expand our curriculum," Dorathy said. "We need to be offering a wider variety of courses to meet the needs of all students and their individual interests. In the very near future, you can expect to see new course offerings at our junior and senior high schools."
The final subject Dorathy discussed was working with members of the Baldwin City community to make a better district and town.
"The school district will work cooperatively with community leaders, including Baker, the (Baldwin City) chamber (of Commerce), the Baldwin City Economic Development Committee, the (Baldwin City) Signal and the businesses here in Baldwin City. The Baldwin City schools are an integral part of this community. How we grow and how we develop is important for everybody. We need to do a good job of helping Baldwin grow."
Earlier in the event, Gerstner spoke about two ideas the education foundation has enacted.
"We just received a Douglas County Community Foundation grant for $3,200. That grant will go toward purchasing an audiology machine that will be used for screening children ages zero to three. It's a screening tool that is inserted in the ear. There are almost 100 families in Parents as Teachers and that will help test all of them.
"The other thing I mentioned was the Bulldog credit card, which is a joint venture with us and Baldwin State Bank," Gerstner said. "When it's used, a portion of the fees will be donated to the education foundation. That's great. The bank has guaranteed at least $1,200 a year and hopefully it will be more than that."
Then event ended with a brief video of the 2006 innovative grant recipients. The BHS multimedia class created the video.
"We were really excited about the video," Gerstner said. "We were delighted that Patty Lenning's class put that together. They spent a lot of time working on that. It came together really well."