Chet doesn't fear Friday the 13th
Friday the 13th doesn't bother Baldwin City icon Chet McMillen one little bit. This past occurrence of the "black date" was his 90th birthday.
"No, it doesn't bother me," said McMillen. "I was born on Friday the 13th. My mom said I was born on Friday the 13th and she should know. No, I'm not superstitious. If a black cat goes in front of me, I don't go around the block. I don't care. It doesn't bother me."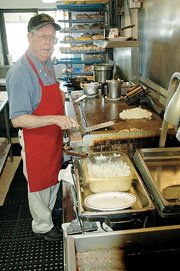 And, yes, over those 90 years, there have been numerous birthdays on Friday the 13th. He isn't sure how many, though.
"Quite a few times," he said. "I wouldn't know exactly how many, but quite a few."
Of course, McMillen isn't your typical 90 year old.
While most -- if not all -- are retired, McMillen is still working as a short-order cook at Cordoba's. He works the breakfast shift, starting at 4 a.m. and getting off at 11 a.m. Tuesday through Friday. He's been involved in the restaurant business since the 1950s after he met and married his wife, Audra, in Lawrence.
In the flood of 1951, they lost everything and moved to Baldwin City where he had several jobs before getting into the bulk petroleum business while she ran a diner. They closed that in 1980, but then built a smaller one and operated it for years at a slower pace. After she died in 1993, he had several jobs, but eventually found his way back to cooking. Yes, it's in his blood -- but in a good way.
"When I'm cooking, I put myself on a diet," said McMillen. "Some cooks it'll make them heavy, some it will make them slim. The food will get in your pores and you don't get hungry."
While diet is one thing, he doesn't have an answer for his longevity.
"I don't really know, really," he said. "I don't drink at home by myself. I go to the Lodge and have drinks with friends. I enjoy that."
That's what happened Friday when he celebrated his 90th birthday there with a host of friends and family.
"They had the party for me Friday and I got so many cards I don't know what to do," said McMillen. "There were a lot of people."
That's what happens when you're a local icon.
"Chester was a great fan of baseball," said Danny McMillen, his nephew. "He'd go to Kansas City Blues games and others. He had season tickets to the Royals for I don't know how long. That helped him with the restaurant. He'd talk baseball.
"He and Audra would feed anyone, whether they had money or not," he said. "They'd help out the little league teams with uniforms. People hung around him because of his business. He collected a lot of friends. He's outlived a lot of them."
And, just like everyone else, the much younger nephew is amazed that McMillen keeps on cooking.
"He's still cooking," he said. "Gets up at 3:30 in the morning. He just loves to fry chicken and have people eat it."
War times
McMillen served in the Air Force during World War II, but wasn't a flyer. His expertise was radio ... as well as trucks.
"After the war broke out in '41, I went to Fort Leavenworth for basic training," said McMillen.
McMillen reported in April of 1942, after Pearl Harbor. He was trained at several locations in the United States. His company was shipped to Pearl Harbor on its way to war.
From there, it was off to New Zealand. Then Perth, Australia. Next was Bombay, India. His final destination was China.
"The Chinese built us a house where we had our radio house," he said. "We collected Japanese code and broke it down on what the Japanese planned on bombing.
"I spent 29 months there. One time I got to drive the Burma Road. I drove trucks some, too," said McMillen. "That was one experience I'll never forget because of the rip-rap on the mountains. There was a sign at the highest spot showing 19,000 feet. The Himilayans. What you had to watch for was the Chinese trucks. If you went off the road, you were gone."
After his stint, he had an equally interesting journey home.
"When I came back, I flew back," he said. "Tripoli, Cairo, Egypt, Casablanca. Bermuda. I landed in New York in August of 1945. I never had a furlough during my whole time. They were giving them, but stopped when they got to the 'Ms.' I went to Kansas City on a 15 day furlough, then to Midland, Texas, for a month. Then, I got out. I was discharged in Lincoln, Nebraska.
"My sister always wanted me to do this. Write about where I'd been," said McMillen. "I never did. I said if I did, I'd make the title 'Across the Pond, Over the Hump and Around the World."
Life in the states
When McMillen returned, he kicked around working at various car dealerships in various roles in Baldwin City, Ottawa and Lawrence. That was before he met Audra. He had decided to become a "fender and bumper" man.
"I decided to become a body man and went to work in Lawrence," he said. "That's when I met my wife. She had a place in north Lawrence and people told me how good the food was. She made her own root beer and had girls on roller skates that brought you your food. It was 15 cents for a big mug of root beer, a dime for a medium and a nickel for a small one for the kids."
"We got to eating over there and she knew I liked fried chicken, so she cooked me some. That's when we got to know each other," said McMillen.
They got married the day before her birthday on May 30.
"We got flooded out on my birthday, July 13, 1951," he said. "We lost everything."
That's what brought him back to Baldwin City.
"I went to work for the railroad," he said. "Audra went to work for O.D. Webb. He wanted me to have the place. He sold it to me for $400."
That's what got McMillen started in the bulk petroleum business and launched the historic run of Audra running a local diner. With a lot of help and support from McMillen.
The love of his life
Make no mistake. Audra meant everything to McMillen. Even today, he still talks of her fondly, still talks about how she influenced his life.
"And my wife, she was probably one of the greatest women who ever lived," said McMillen. "She gave away more food to anyone. No one went hungry. It didn't matter who they were, how big of a bum they might have looked like. She didn't charge the highway patrolmen when they ate there, even though they'd offer. Same with the chief of police. Some people would make tickets and come into pay them off. She'd say she lost them.
"She told me, 'we're not here to make money, we're here to make friends," he said. "She taught me about people. I don't think she had an enemy around."
Audra would also let McMillen know when he was saying something wrong.
"She once told me, 'don't say nothing against that guy. Everybody has some good about them. Everybody,'" he said. "That taught the same lesson."
It's been a good life
He's led an interesting life. He's been all over the world. He's been involved in many businesses, met many people and befriended them all. But, at 90, isn't it time to slow down?
"It's been quite a life," said McMillen. "I don't know. I just couldn't sit around. I need something to do."
So, no, there are no plans for him to quit cooking breakfast every morning. He's not ready to retire. Doesn't even think about it.
"No. I can't sit here," he said. "I've got to get out and meet people. I've got to be around them."