'

Pip' provides heartache, thrills
This is just a doggone good one.
When Ken and Diane Wagner's Yorkshire Terrier, "Pip," came up missing Jan. 6 at dog sitter's Darren and Sherri Zerr's house, there was wide-scale panic. The dog had gone out to take care of "business," along with Zerr's dogs. Pip had stayed there before when the Wagners were out of town, such as this time when the Wagners helped move their oldest son, Jeff, to his first-job out of college in Chicago. Pip was the least of Diane's worries.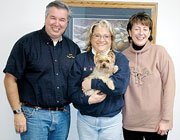 "That was the last thing I said to Sherri when we left," said Diane. "I was a basket case."
Sherri joined Diane there when Pip didn't return at around 9:30 a.m. Jan. 6. A massive search took place. The Zerrs live just outside of Baldwin City on Douglas County Road 400, near Road 1055. Friends and neighbors looked frantically for Pip, a 7-pound bundle of energy, but lacking the skills to survive the outdoors.
"I was hysterical," Sherri recalled.
Fears of poor Pip being lost, scared, hungry, thirsty or -- worse yet -- a coyote's latest meal, were rampant. Sherri was finally able to get through to the Wagners in Chicago the next morning. It was the hardest call she'd ever made, she said.
It intensified the search. Diane called Sandy Cardens, a friend, to tell her to post the dog's disappearance on SpeakOut!, the Signal's Web site at baldwincity.com. Several years ago that had been done and successfully reunited a dog with its family.
"I remembered Mark Dunn's story," said Diane. "That made me call Sandy."
Anything was worth a try and it wouldn't be the last effort made.
The Wagners immediately left the Windy City and spent the hours and hours of the trip agonizing about Pip -- and the Zerrs.
"What I feel bad about is the turmoil we put the Zerrs through," said Ken.
During that time, scores of Baldwin City residents, out-of-towners and even the Baldwin City Police Department searched for the dog. By most estimations, Darren Zerr walked at least 25 miles on his own, talking to any and all neighbors he could think of. No one had seen Pip.
Or, so it seemed.
By the time the Wagners got back to Baldwin, searchers had been at it for three days. They included Michele Haney, a former employee who lives in North Kansas City and had seen the news about Pip on SpeakOut! Residents who had graduated from Baldwin High School with the Wagners' sons were among them. That included Tyler Trowbridge, a 2002 grad who recently finished a stint in the Army in Iraq. He was stopped by police in FireTree Estates. He looked suspicious going up and down the streets slowly. The area isn't far from where Pip went missing. When he told the police he was looking for Pip, he was immediately OK'd to return to the search.
The first words out of Ken's mouth when he saw the Zerrs were "What's your blood sugar count?" He was talking to Sherri, a diabetic. His concern for her health was greater than for the dog. He also just "knew" that all he would have to do was a special whistle he has to get Pip to return. It didn't work.
They searched for the dog, but Diane also put other measures into action. She took out advertisements in the Signal and the Lawrence Journal-World, including one on the on-line classifieds section. Flyers were posted.
"I couldn't believe the outpouring of concern and help from people," said Diane. "People would call me with encouragement and suggestions of things to try. I couldn't believe. I was really touched by all of the concern."
Still, nothing. After four days, there wasn't much hope.
"I kind of gave up on Pippy on Monday," said Ken. "There were two people got me invigorated. (Veterinarian) Tim Jones was one on Tuesday. He took my arm at the diner and told me 'Don't give up on that dog.'"
Jones said that in all of his years in the business, he had never witnessed the "wild animal kills little dog" scenario.
On Wednesday, Diane even went a step further. One of her friends that had made suggestions on what to do mentioned that her mother knows a pet psychic.
"I called the woman," Diane said, laughing at the depth of desperation she was in. "I did not give her my credit card number. I did not have a reading."
But, by this time, one of the efforts had proved fruitful. Kim Radell had seen the on-line ad. Radell is Jeanne Black's sister. Jeanne and her husband, Larry Black, were out of town the weekend of Jan. 6. Radell was taking care of their dogs at the Blacks' home about a half mile north of the Zerrs. The garage door at the Black's was slightly up to allow their dogs in. Pip had scampered in there, found food and water, a nice warm place to stay and ... well, stayed.
"Five minutes after I talked to her (the pet psychic), Kim called," said Diane.
Radell didn't know who the dog belonged to. It had burrs, twigs and other outdoor items in its hair and no collar. She decided to take it with her to Lawrence. She bathed Pip, combed her and generally spoiled her. And, oh, yes, took Pip to Topeka with her during the week. Radell would drop Pip off at a friend's house and go to work.
And, Diane wasn't the only one to have an "experience" regarding Pip shortly before she was found. Ken had the same with that "second" person he spoke of that had given him hope.
"Doug Cloud," said Ken. "He lives over by Overbrook and they breed these dogs. That's where we got Pip. I saw him at show. He said, 'Don't count them out. They're a tough, smart breed.' Three hours after I talked to him, we found her."
Yes, it all ended well, much to the relief of the Wagners and Zerr, who had a roller coaster ride through the ordeal.
"I was devastated," she said. "I cried for both occasions. One extreme to another. I was relieved. A great deal of relief."
The Wagners echoed that, plus thanked everyone for their help.
"I want to thank everyone who has been so concerned and who spent countless hours looking for our precious pet," said Diane. "I was truly amazed and humbled by the out pouring of compassion from this great community. I can't believe how many people gave up some of their free time to search the pastures and woods around 400 Road. And thanks to those that called with suggestions or simple words of support.
"I particularly want to say a special thanks to the Baldwin City Police Department who went out of their way to assist us in our search," she said. "Also, a thank you to the postal carriers and UPS drivers in the area who were more than willing to keep a sharp eye out."
By Thursday morning, it was not only the talk of the town, but people were finally able to have some fun with Pip's plight.
"Yeah, I interviewed her," said Police Chief Mike McKenna. "She's not talking. You won't get anything."
But, Pip did describe her ordeal when prodded several times by the Signal.
"Ruff. Ruff," she said.