City council candidate Ken Wagner
Occupation: Owner/General Manager, Heritage Tractor, Inc.
Years in Baldwin: 9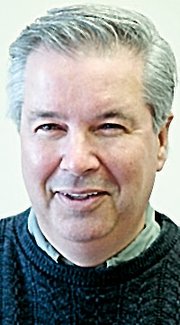 Previous political experience: Baldwin City Council 2000-2004; Currently serving on Utility Committee and Board of Zoning Appeals
Why are you running for office?
I enjoyed my previous term on the council. I enjoyed being involved in local issues. This included debating issues, looking for solutions and, ultimately, working with staff to implement solutions. Two years ago, I decided not to run for re-election because I felt it was important to step aside and let others in the community participate. I want to continue to be a part of the solution to issues and challenges that will face the Baldwin City community.
What goals do you have for improving the city?
I don't necessarily have specific "improvement " goals for the city. Rather, I would like to work to develop a "vision" of what the city should be to those who live here and pay taxes. As this entire area becomes more affected by the growth around us, I think it is very important that we have a vision for the city. As we spend money to redevelop downtown, what do we want long term for this area? What long-term vision do we want to try to coordinate with USD 348? What long-term vision do we have for recreational opportunities in Baldwin? If the Intermodal does affect the future of Baldwin, what should our vision of the community be? So, rather than a goal, I would like to be part of developing a long term "vision" for the city and the people who reside here.
What problems would you like to address if elected?
I would like to see us continue to address the issue of property taxes and utility rates. When we decided to spend money to improve infrastructure in Baldwin, I felt then and still do, that we should be able to manage the electrical utility in such a way that we can actually reduce rates over the long term. This can be done if we capitalize on the efficiencies that the new utility affords. As far as taxes are concerned, it appears that assessed valuations are something that we cannot control. Mill levies and the mix of residential and commercial properties are something that we can control. So, I would like us to explore Business Park development and continue to look for ways to reduce the mill levy.
Do you favor establishing a business park in Baldwin? Why or why not?
I do favor a business park in Baldwin. I think the location needs to be one where it has good access to U.S. Highway 56. I think this concept needs to be commercial development rather than industrial. I do not feel that the city is willing to bring in heavy industrial into this area. But, commercial business that will employ local people and pay taxes based upon Commercial Assessment would work to reduce the tax burden on individual homeowners.
How do you see the building of the Gardner Intermodal impacting Baldwin City? How should the city respond with planning, utility extension, zoning, housing, road expansion, sewer expansion, etc.?
I think the Intermodal is going to have an impact on Baldwin City. I think it should be front and foremost in discussions with the railroad, USD 348 and county officials, as well as city staff. Discussions and preparations for what we think is going to happen, should be considered without question. There is a lot of speculation on the impact of this development a short distance east of Baldwin City. I think it is time for some direct questions to be asked about the impact of this project on our local community and plans made accordingly.
Should Baldwin City have the ability to control/plan/deny growth outside of, but in close proximity, to the city limits?
I don't think the city should have any say in what happens in the areas outside the city limits. It seems to me that there is enough governmental control from the county and the state in these areas. If someone who owns property in these areas wants to have city involvement, then they should ask for consideration to be annexed into the city.
Where do you envision Baldwin City being growth wise in 10 years?
I don't think the growth inside the city limits is as substantial as many believe. However, I think a lot of the growth in Baldwin has been as a result of growth out in the county and rural areas. When I was on the council from 2000-2004, we felt the real growth inside of the city limits was approximately 3.5% per year. This is a reasonable growth rate and one that can be dealt with with relative ease.
Do you favor that growth or oppose it and why?
I am not opposed to growth as long as it is in the best interest of the community as a whole. Growth is going to happen because we are so close to the Kansas City and Lawrence area. If we do not embrace this growth and channel it in the best way to serve our community, we are basically passing the opportunity on to another community and have done nothing to help ourselves in areas of property tax reduction and utility rates, and improvement of city services. Some growth will help to make our community grow and reduce the cost of living by spreading the fixed costs out over more people, property, etc.