School board at-large candidate Joshua Mihesuah
Name: Joshua K. Mihesuah
Occupation: Realtor at Stephens Real Estate. Former university administrator for 27 years.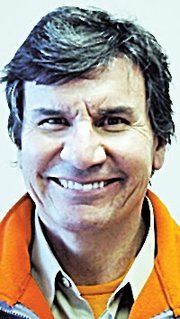 Years in Baldwin district: 2
Previous political experience: Board President and Board member, Flagstaff Unified School District Governing Board of Directors, overseeing $52 million budget, 17 schools, administration, curriculum, personnel, transportation and physical plant; Election Committee for Arizona State Representative Jim Sedillo; Tucson United Way leadership and allocation committees; Served as a big brother with Big Brothers of Tucson and Flagstaff Programs; Board member of the Flagstaff Y.M.C.A; Editorial Board Member of the Arizona Daily Sun; Board member of the Allocation Committee of the Tucson United Way; the Victim Witness Compensation Board; Big Brother in Tucson and Flagstaff.
Why are you running for office?
I am running because children deserve the best possible education. I have myriad experiences working with schools at many levels, with faculty, administrators, politicians and parents. I believe I can work with all people and I know how to reach goals. My personal philosophy for education is that everyone deserves the opportunity to learn and excel. Both my grandfathers were farmers in Oklahoma and I am a first-generation college graduate. My father always told me, "One thing no one can ever take away from you is your education."
Being new in the community can be interpreted as a positive or a negative. I prefer the former. A new and/or different perspective buttressed by knowledge, appropriate experience and common sense can be a positive force. I am new, I am interested and I am willing to offer my services. I bring a wealth of ideas to the district about how we can be a more efficient and effective school district and how we can become a better community partner within the Baldwin City area. If elected, my hope is that I will be a genuine and helpful benefit to the community and its citizens, especially our children
If we are to improve our educational systems, we must work together. As a board member I would ask that parents, school administrators, teachers, staff members and, most importantly, the students, will be willing to join me in meeting the educational challenges before us.
What goals do you have for improving the school district?
To be more efficient at serving our students so they can reach their full potential and to inspire them to contribute to their community. Schools provide the hub of community activities and we should become a better partner with Baldwin City, Baker University, the University of Kansas, Kansas State University and the surrounding areas. The Baldwin schools can become the best within the state and in the nation. Another goal is to reward excellent teachers and staff.
I want to work at bridging communications at the state level. What is needed at that level is a well-balanced plan for consistent funding that will help build and maintain our schools, raise teachers' salaries, lower class sizes and help establish effective programs--while, of course, requiring continued accountability.
What problems would you like to address if elected?
I would have to assess the district. I don't pretend to know all the problems now. I have no illusions about knowing, understanding, let alone resolving, all the concerns in the Baldwin School District. I can say at this point that I will quickly identify the issues and work toward improving them. I think all school districts can be more financially stable and to make certain that resources are spent wisely. I have much experience at handling money. Rational thinkers realize that money alone will not solve all the educational problems in the state or in our country. I will be committed to working toward solving any financial issues. I do expect to learn, understand, and to make constructive contributions.
Do you favor the closing of either of the rural elementary schools? Why or why not?
I need more information before I can speak to this important issue. What are the population demographics and plans for future growth? I do, however, believe in community schools. In my former district in Arizona, we oversaw 17 schools and one was located 30 miles from town. Rural schools provide critical services to the communities they serve.
How do you see the Gardner Intermodal impacting the Baldwin School District and what should be done planning wise to anticipate an influx of students?
We will need to do research on the projected demographic growth for Gardner and the surrounding area. Intermodal is coming, so we have to plan wisely because population growth can dramatically change town dynamics. Timing is also crucial. We need to stay in front of the curve by having a proactive vision for Baldwin City schools. We are going to increase in population, but no one knows how much. So, we must work together as a community to determine the significance of this future growth and plan accordingly.
With a bond issue on the horizon, what do you think is the best alternative for building a new school and how much money do you think should be asked for from taxpayers?
There are many factors to be taken into consideration and it would be presumptuous of me to say more until I have solid facts to study. Baldwin City does not have a strong tax base like other cities with many local businesses, companies and industries. Our monies mainly come from the citizens' property taxes. If we were to build, we need to assess the costs, of course, because we want to make sure we don't under- or over-build, causing unnecessary inflation of our property taxes.
Where do you envision Baldwin City being growth wise in 10 years and how does that impact our district?
No one knows what Baldwin City will look like in the next decade. There is the potential growth from Gardner Intermodal and I know from talking with dozens of people in Lawrence that they like Baldwin and have thought of moving here. My best guess it that it will continue to grow, just like other beautiful, rural areas that are close to the conveniences of larger cities. We absolutely must stay on top of the research focusing on demographic changes, environmental impacts and what the need for more schools might mean to taxpayers. Planned growth is the best solution. We cannot just sit back and let it happen. We have to be proactive in our planning and thinking.
Do you think the various state assessment tests and others are a good gauge of what the quality of education is in our district?
It is only one assessment tool. We need to allow our teachers flexibility and trust that they know how to properly and effectively engage their students. Education is a multifaceted experience and students need to be evaluated by more than one assessment mechanism. The best measure of quality is the end product, but we also have to have means to measure success during their educational process. Can our students compete in the competitive world? Do they have the knowledge and confidence to function successfully as citizens, to continue into higher education or vocational school? Our society is different than it was 20 years ago. It is fast-paced, communication comes quickly over the Internet and cell phones. It is also often impersonal and challenging. Our classrooms and curriculums need to provide basic reading, writing, math and science skills, but it also must educate according to the demands of our society. I would ask this question: are the administrators, the teachers, the staff members, and especially are the students and their families ready to do what is required in order to meet the high expectations that so many experts today say we are lacking in our schools? I am optimistic about the future of our district and envision it growing and flourishing. What we do now as school board members impacts not only the current students, but also the future generations. This is why we also must act as visionaries.