Sand, salt supplies suffice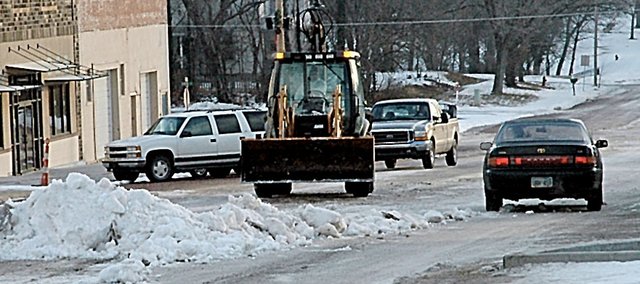 Old Man Winter hasn't given Douglas County road crews much of a break.
To combat the snow last weekend, the county had two 17-member crews using eight full-size dump trucks to spread sand and salt on the roads.
One crew worked 12 hours Saturday and seven hours Sunday, while the second crew worked 12 hours overnight Saturday. Normally on weekends, the county has a six-person crew on standby.
"It's certainly made the last three weekends not desirable for our crews," said Keith Browning, Douglas County's public works director and chief engineer.
Tom Orzulak, the streets division manager for Lawrence's Public Works Department, said the city's response was complicated Saturday because more people were in Lawrence for the Kansas University basketball game and because the storm lasted so long and winds picked up through the day.
"It was a very, very bad storm. It was a challenge," he said.
Weather forecasters predict the workers will get a much-needed break because no major snowstorms are expected for the Lawrence area through the weekend.
But even if a storm were on the horizon, city, county and state crews said there was plenty of sand and salt left.
"We haven't run out of anything," Orzulak said. "We can get as much as we need when we need it."
Meanwhile, the county has enough supply for the short term. It recently placed an order for the second half of its annual supply of 2,000 tons of salt, but isn't sure when it will arrive because of the latest winter weather in the Midwest.
"The supply train right now is heading a lot of places," said Mike Perkins, public works operations division manager.
Kimberly Qualls, a Kansas Department of Transportation spokeswoman, said state crews have been able to replenish sand and salt with each storm.
She added that sometimes what's already on the road can help when another round of wintry weather arrives.
"We've used a lot of product, but because of timing and short spurts, that has helped," Qualls said.
6News anchor/reporter Laura McHugh contributed information to this story.