Price of power: part
III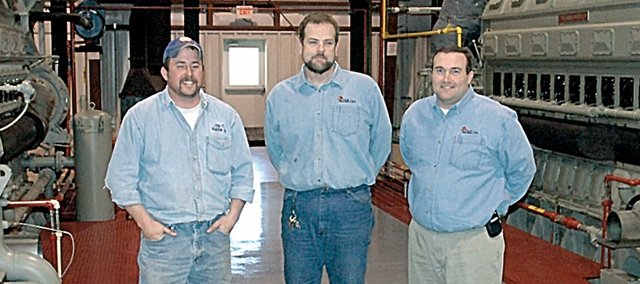 Baldwin City's new power plant and investment to upgrade distribution makes the price of power here higher than other neighboring communities. But, the plant is also a moneymaker.
Baldwin City belongs to the Kansas Municipal Energy Agency (KMEA) and is also partnered with Gardner, Osawatomie, Ottawa and Garnett in the Energy Management Project No. 1 (EMP No. 1). Those five communities are the only ones in KCPL's system that can generate power. Both arrangements are beneficial to the city and its ratepayers.
"If you'll recall, 2007 was the third year we've sold capacity to the city of Gardner," said City Administrator Jeff Dingman. "Various agreements require cities to maintain enough capacity - through contracted power or generation - to carry extra capacity, 120 percent of their peak load, for example.
"Baldwin City's peak load is 9.7 megawatts, which is the most we've ever registered," said Dingman. "We have over 17 MW of nameplate capacity, so we currently have some capacity to spare."
In the past three years, that's resulted in an almost $100,000 chunk of revenue for Baldwin City.
"Gardner's rapid population growth has caused their demand to grow much faster that the capacity of their electric utility, so they needed to acquire additional capacity for the summer months, which we sold to them at something less than they could buy it on the open market because of our pool relationship," he said. "We netted about $33,000 per each year of this agreement and Gardner saved some money by buying it from us rather than having to scramble to find it."
The arrangements with KMEA and EMP No. 1 factor heavily into how the city's plant is operated. The city's capacity that doesn't come from generating comes from the Grand River Dam Authority (GRDA) at 3 MW and Kansas City Board of Public Utilities' Nearman Plant (BPU/Nearman) at 2.5 MW.
"All of our power is brokered for us through KMEA, an agency based in Overland Park that operates for the benefit of mutually-owned power companies," said Dingman. "The city has been affiliated with KMEA since its organization in 1980. We are one of many cities that take GRDA power and BPU power by contract.
"KMEA monitors those contracts and is a clearinghouse for the billing from those agencies," he said. "We pay both a demand rate - which ensures that the power is there for us to use when we need it - and a wholesale energy rate per kilowatt hour for the energy we actually use which are set forth in our contract."
Another benefit of the arrangements is monitoring the system to determine when it is more cost effective to generate power. For example, during the peak usage times in the summer, power can be selling for $200 per KWH on the open market and Baldwin City can generate a KWH for $70, he said. The savings there are obvious.
"We also pay KMEA for services relating to monitoring our generation and our load-following agreement with KCPL," said Dingman. "This is where our participation in the EMP No. 1 comes in. The EMP No. 1 selected Rainbow Energy Management Company (REMC) to monitor costs and trends of the wholesale energy market to determine the best course of action for the cities in our pool, whether that be operate with contracted power or generate our own power and sell our contracted power on the open market.
"These decisions are based purely on the economics involved at the time," he said. "REMC monitors our system every 10 minutes and is continuously collecting our usage data in order to accurately forecast when we will need power and in what quantities. They also monitor when it is economical for us to use our plants for 'peak shaving,' so that we minimize the amount of power we demand from KCPL in order to minimize our demand cost."
Generating and billing
Because its usually Baldwin City's plant that's used to generate during peak times for the EMP No. 1, it's a benefit. It's not actually cash flowing into city coffers, but amounts to the same thing.
"KMEA summarizes our expenses on a monthly billing," said Dingman. "When Baldwin City is called upon to generate for the benefit of EMP No. 1 Power Pool - which we often are, as our two new engines are the most efficient engines in the pool - then Baldwin City gets credit in terms of real dollars from the other members of the pool. Our generation is saving all five cities money in the long run and the other cities pay us for providing that benefit.
"For instance, on an invoice from KMEA in August, we paid our typical demand and energy charges to KCPL, the cost of transmitting the power to Baldwin City, and KMEA/REMC administrative costs," he said. "This bill was reduced by more than half after receiving the credits we were due. The credits included about $14,000 in city-to-city sales and included one of four payments from the city of Gardner for capacity."
It may not be cash flow, but it's the next best thing.
"In short, we don't see cash coming our way as a revenue because of this EMP No. 1 agreement, but we definitely do see the benefit by way of a greatly reduced amount of cash going out," said Dingman.
City Council Member Ken Wagner, who was on the council when the decision was made to build the new $5.4 million plant, has seen the benefit.
"The power plant has given us a degree of flexibility," said Wagner. "The city can make decisions to generate power and sell back into the grid during peak usage periods. We have generated some additional funds for the utility when the price was right.
"(Former Utility Director) Terry McKinney really did a nice job for us in that regard and I am pretty sure the staff today is doing that as well," he said.
If those aren't benefit enough, Ottawa City Clerk Scott Bird - who started working for Ottawa in its power plant - simply points to the engines' capacity figures.
"The fact that those machines are there is bargaining power," said Bird. "Whenever I talk to officials in cities where they've gotten out of power generating, they say it was the worst mistake they've ever made."
How to lower cost?
No one likes the high price of electricity in Baldwin City. Wagner's August bill of $800 is well documented. He didn't like it. But what can be done?
The only answer is simple to Wagner.
"So, bottom line, my opinion is this - to reduce our rates, we either have to sell more power or we need to reduce our expenses in the utility," said Wagner.
The problem, he said, can be attributed to lack of growth so far.
"As far as the cost is concerned, I was and continue to be concerned about the cost of our utility," he said. "Utility and tax rates continue to be a primary concern to those people looking to live in Baldwin. I think we need to be very conscious of that. When I voted to invest further in the utility, I felt strongly that we needed to manage and run the utility as a business. If we did our job right and built the right infrastructure, managed it properly, controlled our overhead, we could be competitive with our rates.
"I never thought, however, that we could match KCPL's rates due to the scope of their business," said Wagner. "They should be able to generate and deliver power cheaper than our city. The thing that hasn't happened, in my opinion, is the growth that we expected. I think for the utility to hold the line on rates, we need more growth for electricity."
And, if that growth doesn't materialize, what's the answer?
"We have a certain amount of fixed overhead and simply we need more customers to purchase power so we can spread the fixed overhead out and work toward reducing our rates," he said. "A larger commercial customer base that uses more power would help, but residential growth would help as well.
"In my opinion, if the proper amount of growth doesn't happen, I think city management and the city council is going to have to look for ways to take costs out of our utilities," said Wagner. "This could include things like fewer employees, reduction of capital expenditures, more aggressive marketing of excess power during peak periods, etc."