Malicky to grads: 'Take care'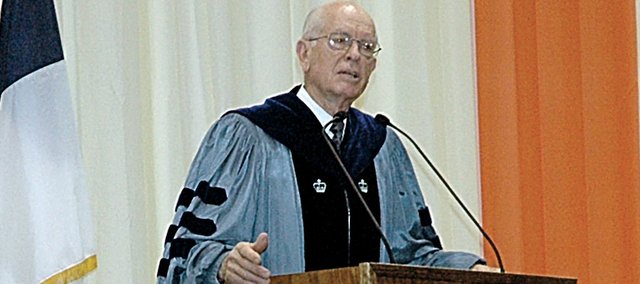 Hundreds of Baker University students, from several campuses, graduated here this weekend.
The final commencement ceremony ended early Sunday afternoon on a chilly, snow-covered day. All of the ceremonies were held at the Collins Center, located on Baker's main campus.
Baker University President Pat Long addressed Sunday's packed gymnasium and remarked on several memories.
"This is my most special day, watching all of you walk across this stage," Long said. "When handing out the diplomas, one student asked me 'what did I give you.' That student gave me a memory of this day that I will carry with me."
Earlier in the ceremony, Long introduced the commencement speaker, Neal Malicky, 1956 Baker graduate and former dean of the College of Arts and Sciences.
Malicky served as interim president of Baker in 1974 and was the sixth president of Baldwin-Wallace College in Berea, Ohio.
His message to the graduates was short, but stern. It was "take care." Malicky talked about taking care of people, the world and yourself.
"I hope you will take care of your principles, values, family and friends," Malicky said. "Take care of these things in your life. Take care."
He went on to speak about taking care of the planet for future generations.
"Take care of the Earth," Malicky said. "It's the only Earth we have."
After he was introduced, Malicky joked about not giving a commencement address. Then he cracked a joke about keeping his speech short.
"As Henry VIII said to his sixth wife, I won't keep you long," Malicky joked.
On Sunday, Baker's CAS, School of Education, School of Nursing and School of Professional and Graduate Studies were honored.
On Saturday, the School of Education students receiving Master of Arts in Education and Master of Arts in School Leadership degrees were recognized. Tom Bloch, president and co-founder of the University Academy in Kansas City, Mo., was the keynote speaker.
The second ceremony on Saturday was for the School of Professional and Graduate Studies students receiving Master of Business Administration, Master of Liberal Arts and Master of Science in Management degrees. Former Baker Board of Trustee Cecil Miller, a 1953 Baker graduate, spoke at the afternoon event. Miller is a retired partner of KPMG, an international public accounting firm.
Baker University is the oldest university in Kansas and is celebrating its 150th year during this school year. For more information, go to Baker's Web site at www.bakeru.edu.