Juniors reunited at 112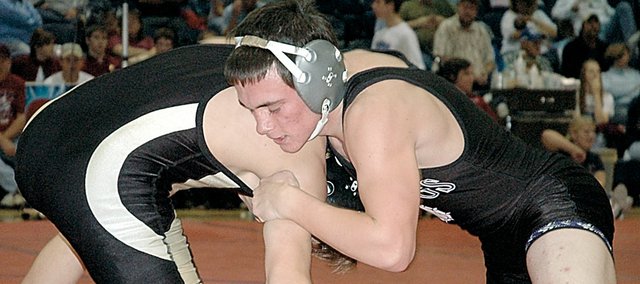 Alan Callahan and Sharky Slyter are back at it : again.
They wrestled at 103 pounds as freshmen - now two years later they are competing in the 112-pound weight class.
This year the area wrestlers could meet up for the Class 4A regional and state championships.
"It's pretty nice," Callahan said of wrestling Slyter this season. "We both know everything each other does. It will always be a really tough match. I hope I can see him in the finals of state."
Callahan, a Baldwin High School junior, and Slyter, a Paola High School junior, have the possibility of wrestling at five more meets this season. Baldwin and Paola will attend the Basehor-Linwood tournament, Baldwin Invitational Tournament, Frontier League championship, Class 4A regional tournament and the 4A state championship.
"They will keep wrestling each other, which becomes more difficult for both sides," Harris said. "It comes down to strategies and mistakes. It's a tough weight class. It's a long season and a lot of things can happen.
"They will both be watching video on each other," Harris said. "They will be trying to figure things out. It is a pretty friendly rivalry, because they wrestle each other in the offseason."
Callahan has defeated Slyter twice this season. Callahan won both matches in the championship round of the Trailblazer Invitational and the Eudora Tournament of Champions.
At the Gardner-Edgerton Trailblazer Invitational, Callahan won 6-2 to win the 112 title. The following week, he won 4-3 to win the weight class championship again.
"It's pretty fun, because you see where you progress during the season," Callahan said of wrestling Slyter twice early in the year. "You get to see what you need to improve. It's great wrestling him again and again."
In the Eudora tournament match, the pair of wrestlers were tied 2-2 heading into the final period. Callahan scored a two-point takedown and held on to win the match.
"It was huge," Callahan said of his final takedown. "It decided the match. I just got him down. I don't know how it happened."
Callahan and Slyter were opponents two years ago as freshmen and many times during their youth. At the 2006 state meet, Callahan placed sixth in 4A, while Slyter qualified in Class 5A but didn't place in the 103 weight class.
Last year, Callahan moved up to the 112-weight class, while Slyter remained at 103.
"We have an on-going rivalry," Callahan said. "We've been competing against each other for most of our wrestling careers. It's great to have a good friend and a guy you can go three periods with."
The two wrestlers have also squared off many times when they were younger. Harris said they were each good at their particular style.
"They go back several years to when they were much younger," Harris said. "Alan has tended to get most of the wins in folkstyle, but Sharky has had the better of Alan in freestyle and Greco-Roman."
With all of that experience against his opponent, Callahan is familiar with Slyter's strengths. He also knows that he must wrestle to the best of his ability every match.
"He is really determined and he knows what he is really good at," Callahan said. "He comes and does his stuff each match. You have to be ready for what his moves are and counter-act this stuff."
Harris said Slyter has several strengths, while Callahan has a couple of his own and has shown improvement this season.
"Sharky's phenomenal on his feet," Harris said. "He has excellent defense and offense. Your chances to score are few and far between. You really have to take advantage of them."
"Alan can mat wrestle a little bit, but Sharky can turn it into a different kind of match with his abilities," Harris said. "Alan has got some pretty good shots. He is getting a lot better at his take down defense. He scrambles and flurries a lot. They are an even match. They could wrestle 20 times and each might win 10 matches."
With the possibility of wrestling Slyter five more times this season, Callahan is excited about the remainder of his junior campaign.
"I am looking forward to seeing him more this season," Callahan said. "I have to stay on top of my game and bring it each week. I'll have to be ready for him come regional and state time."