Scorching start to season
Baldwin High School fall practices couldn't have fallen on a worse weather week than this one.
With temperatures topping 100 degrees, all six BHS fall teams began practicing this week. The scorching temperatures have many of the teams practicing in the morning and evening to avoid any heat-related problems.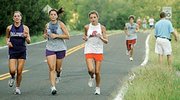 "Our first concern is the safety of these guys," said Mike Berg, BHS football coach. "I want our guys to stay healthy and keep hydrated. We're doing the best we can, but it's tough on their legs to practice late at night and then come back in the morning. They are handling it well though."
The BHS football, soccer and cross country teams have all been waking up to practice early in the morning. Although 6 a.m. can be early for high school students, they enjoy the cooler weather when they can get it.
"The mornings are really nice, although I am a bit tired," BHS freshman cross country runner Carson Barnes said. "It's a little hot during the evening, but it's not too bad."
All three of those teams have also been practicing in the evening for the first few days. Another team that moved its workouts to the evening was the BHS girls' tennis team.
Coach Ginny Honomichl scheduled practice for 3:30 p.m. each day this week, but the weather has forced her to adjust the plans. Assistant coach Justin Hoffman understood her logic of changing the time.
"The superintendent didn't want the players out in the extreme heat," Hoffman said. "We can't have the players out in the 105 heat index. We've gone to morning practices. We have the shortest season so we needed to get the girls going and out of danger."
One concern for coaches during hot weather is keeping their athletes hydrated. Frequent water breaks are given during practice to ensure everyone's safety.
"We have been staying hydrated and with our practices not being at the hottest times of the day, things have been all right," BHS senior soccer player Dustin Schiller said. "The coaches are doing a good job of letting us take frequent water breaks. They encourage us to drink water before and after practice and there are always water coolers available."
One BHS team that has the privilege of avoiding the heat is the volleyball squad. The Bulldogs are able to workout at normal practice time because they are inside the gym in airconditioning.
"It's really nice to be inside, since it's so hot outside," BHS senior volleyball player Ashley Tucker said. "We thought we were going to have to go outside and run a little bit, but we haven't so far, which is good."
Whether or not a team is practicing inside or outside, the players are just excited to be out playing again. Although the Bulldogs have only been practicing for three days, the excitement for fall sports can be felt on any field or court.
"It feels great," BHS senior football player Luke Weaver said. "I've been waiting a long time for this year. A lot of people are working hard. I think this is the best turnout we've had. All 56 players have showed up to every practice so far. Everyone is working hard and not asking questions."
Heather Garcia, BHS senior runner and Class 4A defending state champion, was thrilled to be out with her teammates again this week. She is hoping the numbers out this year will benefit the team.
I am excited to be back," Garcia said. "We are training hard already. We are going to be stacked and fighting for position on varsity. I am so excited that the season has started, but I am a little sad because it's my last year. I just hope to give it all I've got this year."
Barnes, a freshman on the cross country squad, agreed about the teams working hard, but added he is excited for his rookie campaign.
"It's going good so far and we are working hard," Barnes said. "I am looking forward to the rest of the season. I am pretty excited about my freshman season."
Tucker is happy to begin her senior season, but said the Bulldogs' practices are tough so far.
"I'm actually really glad we're practicing again," Tucker said. "It feels good to be doing something again and getting back onto the court. The first two days have been really good. They've been totally fun, but we're working really hard at the same time."
Most athletes would agree that summer training helps when practices do begin. Members of the BHS football team took part in many Bulldog Days' workouts during the summer.
That extra conditioning has paid off this week, according to Weaver.
"Dog Days helped a lot this summer," Weaver said. "People are exactly where they need to be, if not better."
During the first week of practice, the Bulldogs have been focusing on the fundamentals of their sport. Coaches try to stress those early and get them out of the way for the primary offensive and defensive schemes.
"The first two days have gone surprisingly well," Schiller said. "Our team has picked up right where we left off last year with our work ethic and chemistry on the field.
"We have been playing a lot of keep-a-way in practice," Schiller said. "The coaches know the team which possesses the ball longer has a far better chance at winning, and I think that's why they have been choosing these drills."
The Signal will run previews for the BHS soccer, volleyball and girls' tennis teams in next week's issue.