KDOT

backtracks on U.S. 56
Apparently, the radar gun got jumped last week. The speed limit on U.S. Highway 56 isn't going up to 60 mph just yet.
Only days after announcing the speed limit would go up from 55 mph last week, officials with the Kansas Department of Transportation had second thoughts, especially regarding the stretch of U.S. 56 that fronts Baldwin Elementary School Intermediate Center. On Tuesday, KDOT announced the speed limit change would be "postponed for now."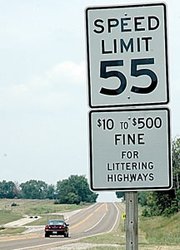 That's the entire four-county stretch from Lyon through Osage, Douglas and Johnson counties where the limit was to be raised. Tom Mundinger, principal at BESIC, isn't concerned about that, but is pleased that something will be done in front of his school.
"If in fact they put it on hold to talk to those impacted, that's a good sign," said Mundinger, who was critical of KDOT about last week's announcement. "I will be thrilled to be part of those discussions. If part of their signing package is flashing lights, then that would better meet our needs."
Kim Qualls, spokesman for KDOT, said officials would meet with the three school districts that have schools along U.S. 56 before any action is taken on the speed limit change.
"It's postponed for now," said Qualls. "We're going to talk with the school district in the area that might be affected."
The schools, along with BESIC, are Santa Fe Trail High School in Osage County near Overbrook and Northern Heights High School in Lyon County near Allen. Qualls said the change by KDOT didn't come as a result of an outcry after the speed limit change was bumped up.
"Actually, nothing changed our minds," she said. "This was something we were looking at. We were looking at the schools before the speed zone changes."
The Safe Routes to School Program is part of KDOT. The Baldwin City School District became a part of the grant process last year and there was a presentation on it at the Baldwin City Council meeting in early June. However, the situation at BESIC was not a part of that presentation.
Qualls made the announcement on the speed limit last Tuesday. She attended a meeting on Safe Routes to School the next day.
"It was just something that I was becoming familiar with when we spoke last week," said Qualls. "The Baldwin City schools were on the list."
Mundinger doesn't buy into that. He thinks the change is a result of an outcry from Baldwin City, including State. Rep. Tom Holland, that put the plan on hold. Mundinger was surprised to hear Tuesday afternoon that KDOT had postponed the speed limit change and would be talking to the school districts.
"Well good," he said. "Maybe they should have done that first."
He also thinks it's a case where KDOT's right hand didn't know what its left hand was doing.
"I agree on that because the speed limit people are different from the Safe Routes people," said Mundinger. "When they started getting feedback from Baldwin about the speed zone, it's my opinion that's when they started backtracking.
"I do think they are hearing from people. I've had several people contact me on it, including Tom Holland," he said. "I think they are trying to respond to people by saying, 'OK, we'll tie this in with Safe Routes.'"
In an e-mail last Friday, Mundinger, other school district officials and city officials were informed that Earl Bosak from KDOT would meet with them regarding the Safe Route program and that the plan was to designate the area in front of BESIC as a "rural high speed school zone" and reduce the speed limit to 45 mph during peak hours. Signing packages would also be put in place to inform motorists, the e-mail said. That meeting is set for Thursday at BESIC.
While that encouraged Mundinger and he was surprised Tuesday when he learned about the postponement, he still wants to see what KDOT will come up with. Because of the hilltop to the west of the school, he feels like the stretch of road is different from the other rural schools involved.
"If you look at the whole picture, number one we're connected to the city. It's not like we're in the middle of nowhere," he said. "It's a continuous strip. Then you go up to the top of the hill and then there's a blind spot.
"If you've got all those things in one strip, for this half mile we should keep it 45," said Mundinger. "If that happens, that would be fantastic. That's fabulous."
But, in order to do that on the stretch that's currently 55, he thinks there's another must.
"To me, that's the key," said Mundinger. "If they are going to come out to the top of the hill and at the bottom of the hill with flashing lights during school times, I'm fine with that."
Qualls, the KDOT spokesman, couldn't say what type of signage would be used here, but it will be studied.
"It's going to vary according to location," said Qualls. "They are going to review all the schools in this program. Where are the speed zones? Where are the locations?
"KDOT will look at what's best for each school," she said. "It's not a cookie cutter, one size fits all. KDOT is really concerned about these schools."