ATCHISON -- As predicted by coach Mike Grossner, the Baker University football team used its defense to beat rival Benedictine College here Saturday.
The Wildcats defense created five turnovers that helped them win their season opener 17-13.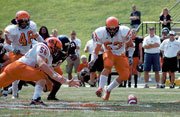 "Five in one game is huge," Grossner said. "We turned the ball over once, but anytime you have a 5:1 ratio, you are going to win the game."
The game was controlled by both defenses, but the Wildcats made more big plays when needed.
Baker recovered three Ravens' fumbles and intercepted two passes, one of which almost went the distance for a touchdown.
Early in the fourth quarter, sophomore Eric Allen intercepted a Benedictine pass and returned it for a touchdown. During the runback, Allen was called out of bounds at midfield.
In the final minute of the game, junior Brad Page intercepted a Raven pass that sealed the deal for the Wildcats.
"I thought it was a dominating performance in the second half," Grossner said. "The scoreboard didn't show it, but we came out on both sides of the ball."
The game started off badly for Baker as the Ravens took the opening possession for 10 plays. Baker did hold them to a field goal, but trailed 3-0.
Later in the quarter, Benedictine fumbled near midfield and Baker recovered. The Wildcats drove down field and freshman quarterback Mack Brown threw a touchdown pass to fellow freshman Brad Fawcett. The score was called back because of a penalty on Baker.
"We didn't get a break," Grossner said. "We are not begging for breaks, but it seemed like when we would make a big play, a yellow flag was on the field. We had a touchdown called back in the first half because we lined up wrong."
Brown said the penalty was tough on the team mentally.
"It was kind of demoralizing, but it was early in the game," Brown said. "We all made some mental mistakes."
Baker settled for a 33-yard field goal by junior Ryan Smith to tie the game 3-3. Then momentum shifted as the Ravens ran the kickoff back to the Baker 39-yard line. A 15-yard penalty on the return moved Benedictine even closer.
Two plays later, the Ravens scored on a 10-yard run to take a 10-3 lead. They would later add a field goal in the second quarter.
"I was concerned that it could get out of hand early, but not worried," Grossner said. "Our kids were fighting. As long as they were not scoring, we were OK. Football is a game of momentum."
Baker soon grabbed the momentum with a quick drive at the end of the first half. Brown connected with freshman Taylor Burnett for a 1-yard touchdown pass with nine seconds left in the half. The touchdown closed the lead to 13-10.
"It felt really good," Brown said of the touchdown. "Coach made a nice call."
Grossner said the late score was big for the Wildcats, because they had been losing the field position battle all half.
"Our field position was awful in the first half," Grossner said. "We were just trying to survive and keep them out of the end zone. We didn't get out of our end zone until the very end of the first half. The score at the end of the first half was big."
He was also proud of how well his defense played during the first half.
"Our defense played so solid keeping them down, because it really could have been a big score at half," Grossner said. "Then we punched one in on a two-minute drill and made it 13-10. It gave us a little confidence going into halftime."
Junior Micah Mason said the defense stepped up when needed.
"The first half wasn't great, but we had some great defensive stands," Mason said. "Our backs were against the wall and we only let them in one time."
Grossner said the Wildcats had a chance to comeback in the second half, because he knew his team could fix its problems.
"We had taken all of their bullets and we were still surviving," Grossner said. "Then it was up to us to win the game in the second half. We had to correct our mistakes."
Both teams came out of halftime rather stagnate as they exchanged punts several times. Late in the quarter, the Wildcats missed a chance to tie the game. Smith missed a 28-yard field goal wide left.
The teams later exchanged interceptions in the fourth quarter, before the Wildcats capitalized on a Raven fumble.
Page recovered a Benedictine fumble deep in Raven territory. Then the Wildcats brought in Mason to play running back for a few plays. Then Brown threw another touchdown pass to Burnett, which gave Baker a 17-13 lead with 7:29 left in the game.
"It was big, because we had missed a tying field goal," Grossner said of the score. "That kind of took the wind out of our sails. We went to Micah Mason for some tough yards on that drive. I think Micah's hard running set up our play action, because we faked to him and threw to our big tight end. It was huge."
Benedictine then tried to answer with a score of its own. The Ravens marched down until they had a first down at the Baker 7-yard line. Baker held its ground for three plays before sacking the Raven quarterback on fourth down.
"It was huge," Mason said of the stop. "We can be put into those situations and we come alive. That's where our defense comes alive. We step up when things are on the line."
The Wildcats then punted and gave Benedictine one last shot. That chance was denied by Page, who intercepted a Raven pass. Baker then ran one play and kneeled down twice to secure the victory.
"It was a very good confidence booster," Mason said. "It's a big win, but not as big as other games. But it is big, because it started our season and showed people what we can do."
Brown also said the win helps the Wildcats' confidence.
"It was huge to start the year off with a win," Brown said. "It got everybody's confidence up and gave us some momentum for the year. We just have to keep working hard."
Grossner said the team had some confidence heading into the game, but the victory helps assure that.
"I think we were confident, but until you win a big game like that on the road, do you truly believe in yourself?" Grossner said. "I think our players now understand what it takes to win tough games. They've got another challenge this week in a very similar situation."
He was glad to see all of the team's hard work pay off in a game.
"It's a long time coming," Grossner said. "We worked hard in the spring, worked hard in the summer and had a great fall camp. Things kind of came together well enough that we were able to pull it off Saturday against a good football team."
Brown completed 13 of 30 passes for 172 yards and two touchdowns. He also led Baker in rushing with six attempts for 36 yards.
"I thought he played really well," Grossner said of Brown's performance. "They showed us some defensive looks we hadn't seen and he took some hits. For his first collegiate game, I thought he was fantastic. He made some great throws and some great runs. He has a quiet calm to him, that's pleasing to me because he can keep his head in the game and lead us to victory."
Brown was just happy to be playing in a game, after being a red-shirt freshman last fall at the University of Colorado
"That was my first game playing since my senior year," Brown said. "I could almost say I forgot what it was like to play and not practice. It definitely gave me a lot more enthusiasm to come out there today and remember how fun games are."
The Wildcats will now host No. 16th-ranked Graceland University at 6 p.m. Saturday at Liston Stadium. It will be the first game on the new artificial turf field.
"It should be fun," Grossner said. "I don't think we need to motivate them. We are excited to play at home on our turf. It should be a good week of preparation."