Bill Davis is known for always having a construction project around the home, but his last endeavor might be his biggest one yet.
Davis has been constructing a sailboat in his back yard since March.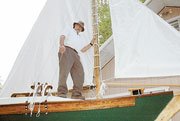 "He has always been having some kind of hobby," Kathy Davis, Bill's wife, said. "I just say 'OK and what's next?' This has absorbed a lot of his time. It's been fun to see it and we have pictures at different stages of its progress."
Davis has even figured up approximately how many hours he has spent working on his boat.
"Every weekend, I pretty much spend eight to 10 hours," Davis said. "Mainly, every night about an hour to two hours. It's a project. I've probably got a little over 200 hours in it, maybe 300 hours."
The construction was not all done by Davis. He recruited family and friends to help him with the project.
"As much as I could recruit," Davis said. "When it came time to lifting it up and putting it on the trailer, that was hard to do single handily. I had some friends over and had them do a couple things for me. They got a chance to see how easily it can be done."
K. Davis agreed, saying it has been a family project.
"It's been a family adventure as far as that goes," K. Davis said. "The boys have helped and so have the grandkids. That is what life is about."
Rekindling the fire
In March, the Baldwin City resident began building his own sailboat, in hopes of fulfilling a dream.
"I guess more than anything, I've always wanted to sail," Davis said. "I had always wanted to sail and never had the opportunity."
Davis got his chance at sailing a year ago with his son's father-in-law, Wayne Peterson. They went sailing on Lake Perry and Davis' spark was lit.
"He said come on out anytime, so I went on out there and I got to ride around on it for a while," Davis said. "He really rekindled the fire I had in the Navy."
Davis was stationed in San Diego during his time in the Navy. He was also stationed on the USS Kitty Hawk and saw many sailboats in the ocean. Then sailing became a dream of his.
"I had all of the training in the Navy I needed to sail around the world," Davis said. "Navigation was my department. Learning to navigate a ship day and night, keeping the ship's position and knowing where you are. That's a big part of sailing, especially in the open water."
Internet assistance
When Davis decided he was serious about sailing, he first thought of buying a sailboat, but then came up with a different idea.
"I decided to see if I could buy one, so I started looking on the Internet at different places," Davis said. "It said it's not that hard to build. So on the Internet, I ran across a Website called Stevenson's projects and he's built them since 1975. He sells you the plans and a couple videotapes that tell you step-by-step what to do. It sold me on the idea, so I went ahead with it."
Davis then signed up for the kit from Stevenson's projects, which included a helpful video tape.
"Actually, because of the video tape that came with it, it's fairly simple," Davis said of the construction. "It has very good detailed plans and a booklet that tells you everything step-by-step, essentially. You buy the materials that you need to build it. Then I bought a sail kit from a fellow up in Indiana and so he sent me that. I built the sails. The video tapes are very detailed."
He then began his construction project in the spring.
"Back in March, I started buying the lumber," Davis said. "By the time we were out of the cold weather, I had a lot of little parts made. When the cold finally cleared off, I started working every night."
Davis said one of the most difficult parts of the project was making sure the base of the boat was sturdy enough to sail.
"It's fiberglass reinforced plywood," Davis said. "So it's got all of the stiffness and all of the characteristics you need for a good buoyancy and strength."
The project wasn't too expensive for Davis, but he did choose nautical equipment over standard parts, which cost him more.
"I've got to the extra expenses of buying true sailing rigging from sailboat manufacturing companies," Davis said. "You can buy blocks from the hardware store for a buck and a half, or you can buy parts from sailing companies for 25 to 50 dollars for the same thing. But you get a better quality handling of the sails."
Davis' boat spans 22 feet long, but only approximately 17 feet of that will be actually submersed in the water. The interior of the boat is 6-foot-2 long and just short of 5 feet wide.
Exploring the world
He would love to one day take the boat into open water, but knows the interior might be too confined for his wife.
"I don't know if Kathy could, because she is not one who likes to be in close spaces," Davis said.
K. Davis agreed, saying she would need to bring more stuff than they would have space for.
"I don't think we have a big enough boat for everything I would want to take with us," K. Davis said. "I am not ready for that type of adventure, because I have too many things in the house to take care."
Although she was reluctant, K. Davis did say she would give sailing a try.
"As I told him, I will try it," K. Davis said. "No guarantees, but I will try it. It's something I have never done much of."
The idea of sailing in the ocean has been tossed around the Davis house; nothing has been set in stone yet. Bill said now would be a good time for them to consider the idea.
"The one thing that did sell me is because I am close to retirement," Davis said. "I took a couple issues of 'Good Old Boat,' which has articles on people who live aboard their boats and sail around the world.
"You can cut your living expenses by three-fourths by living on a boat," Davis said. "So that kind of sold me, because in retirement that might be worth doing for a couple of years."
Another reason this might happen for them is that Kathy has family living on the west coast.
"My wife Kathy has a couple of brothers that live in southern California and it would be neat to be able to visit them," Davis said. "Then, we've got family up in the northwest, so we could visit them as well."
Davis did say that if they were to move out west, this first boat would probably not travel with them, because they would take a class about sailing in the open water.
"This one will probably stay somewhere here," Davis said. "If it looks like Kathy and I will try this, first thing we will do is go to San Diego and spend a week under instruction. It's a seven-day course for about $2,800.
"We would be the only couple aboard and we would be in blue water right away," Davis said. "You sail up and down the coast there until you are comfortable with it. You will come away with a certificate that says now you are capable of chartering a boat that is without a skipper or anyone helping you. So we'll see."
Setting the sails
Davis said he hopes to get his boat on the water very soon, but has to finish some wiring on the trailer.
"Hopefully in the next week or two," Davis said. "I am going to get the lighting done and the bunks have to be done on the trailer to make it road worthy. After that, nothing stops it, but possibly the weather."
He knows where he will head first, because he wants some assistance on his first attempt.
"Lake Perry probably, because that is where Wayne's boat is and I want him on board when we first set sail," Davis said. "He is going to be the one I will be listening to until I am comfortable with it."
When asked if weather could become a problem, Davis responded by saying many boats are built to sustain a storm.
"Even on a 40-footer, you are going to be confined somewhat below deck in foul weather," Davis said. "That's not fun necessarily, but with the newer boats that are out there, most of them will roll completely over and come right back up.
"So as long as you keep it from springing leaks or hit anything hard, like an iceberg, they are pretty bulletproof," Davis said. "If you've got the sense of adventure to do it, anybody can do it. To me it would be fun."
The thought of sailing has Davis very excited to take his boat out.
"I just like sailing," Davis said. "It's a beautiful way to enjoy the outdoors. I am excited to get it done and put it on the water."