Good health guides Garcia to individual state title
One year ago, Heather Garcia had high hopes of winning the Class 4A state cross country title, but that dream was shattered with an injury and allergies. Garcia made up for it Saturday in Wamego, winning the individual state title that had eluded her.
In late September 2005, the Baldwin High School runner broke her arm playing dodge ball at a Fellowship for Christian Athletes event. A few weeks later, Garcia battled the flu along with allergies, ruining her sophomore year of cross country.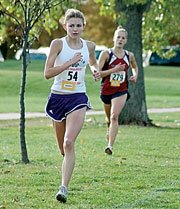 She finished 19th at the state meet, a year after placing second as a freshman. It was a tough way for her to finish her season.
"It was hard, because I wanted to do so much better," Garcia said. "I didn't expect it, which made it tougher. I got second as a freshman and then all of that happened last year. It was hard to stay focused and remember that I am capable of so much more."
After her frustrating end to a sophomore campaign, Garcia was making sure she stayed healthy this fall.
"That was a big key," Garcia said. "No dodge ball. I have banned myself. None of us have played at all this year, which was probably a good thing. I made sure I stayed home more and didn't do as many activities. I made sure that I rested up."
Coach Mike Spielman said her finish last year was her motivation this fall.
"I think that was something that motivated her all year," Spielman said. "The idea that she had not finished the year very good. She had been a state champ in track, but never in cross country, so winning a state title was going to be a big deal. She set that as one of her goals."
With the flu bug behind her and two good arms, Garcia came out this fall with a mission. She won eight of her nine races, only losing at the prestigious Rim Rock Invitational.
"It was really good," Garcia said of her season. "It was really cool to know that the lowest place I got was second and that was at a huge meet. That was a big deal to me. I kept improving and at the end it paid off."
Garcia capped off her junior season with the race she wanted one year ago when she crossed the finish line first Saturday.
"It meant a lot to me to know that I could do it," Garcia said. "It was a confidence booster to me."
She became the third girl in BHS history to win the individual title at the state meet. Amanda Morford won it in 1997 as a freshman, while Megan Noonan won the race in 1998 and 2000.
Spielman knew Garcia was the third girl from BHS to win, but her time was what had him in awe.
"We've had three and she is the first since Megan," Spielman said. "That time she ran was one of the fastest in the country. That's a really good time.
Garcia won the race in a time of 14:05.25, which was a 17-second personal record. It was also 19 seconds ahead of he nearest competitor, which was her rival, Eudora's Brittney Graff.
When asked if she knew her time after the race, Garcia laughed.
"Oh my gosh, no," Garcia said. "I was like that can't be right. That was really exciting to have a time like that, especially since I beat her (Graff) by more than I have the whole year. That was really cool, but I was in awe about my time. I felt so good running, but I didn't think we were going that fast.
"I didn't think I would ever get so close to breaking 14 minutes," Garcia said. "That's another goal that lies ahead."
Garcia and Graff have been battling the last two years. Graff won the state meet last year, but Garcia got her revenge this year.
During the 4-kilometer race, the two ran side-by-side for more than half of the race, until Garcia opened up a slight gap up the largest hill, nicknamed Big Bertha.
"For the first mile or so I was coasting with them and I wasn't pushing it or anything," Garcia said. "Sometimes I would get a little lead but I wasn't going to make a move, though. Then up Bertha, which is the last hill, coach told me to run it like a hill workout, so I pressed up it. On the last 400, I strided out and kicked hard, which is what coach told me to do."
Spielman said she executed her strategy perfectly, but having a race plan may not have been necessary.
"We talked about running with Graff until she got to the big hill and then start to accelerate on the hill, but not make a big move," Spielman said. "She followed it just perfect and it worked out really well for her.
"Right now she is running with so much confidence that she could probably pick any strategy and win a race," Spielman said. "She could wait until the end or go early or whatever."
Now that Garcia has completed her goal of winning the state meet, she will move on to the national level. In the next month or two, She will be competing the prestigious Foot Locker Cross Country Championships and the Amateur Athletic Union National Cross Country Championships.
"Coach has me on a schedule so that will help," Garcia said. "I will just do what he tells me."
She hopes the state title will help give her confidence for those meets.
"It will help me prepare for the upcoming races I have," Garcia said.