Flags, but no fireworks this year
The lack of people and funding has combined to shut down the Fourth of July celebration this year at the Baldwin City ball fields.
With a dwindling group of people and money, the Citizens For Baldwin City has canceled this year's celebration. It will be the first time in six years that Baldwin will be without a July Fourth festival.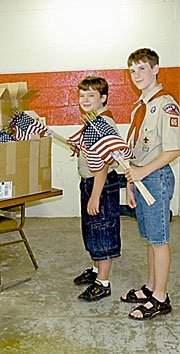 "We regret we aren't doing anything this year," said Donna Kneedler, CFBC president. "It's complicated, but we just didn't have enough money and support."
The absence of support was the main issue for CFBC, because the group that started with 20 people has shrunk to five.
"We need bodies and people to help us," Kneedler said. "We can get help from the businesses, because they have always been willing to help. But we just need the bodies to help raise that money."
The lack of celebration does bring sadness to Kneedler, because it had been an annual event.
"We worked really hard to get this started, which makes it more disappointing," Kneedler said. "It's disappointing that we don't have enough members to pull it off."
Despite the lack of celebration by CFBC, Baldwin residents can cool off at the Baldwin City Municipal Pool. The Baldwin City Recreation Commission will be opening the pool from noon to 4 p.m. as it does every year. The pool will be free to enter and will have games and food, according to BCRC Director Monte Ezell.
Another July Fourth tradition that will continue this year is the placing of miniature American flags in yards around town. This year the flags are being sponsored by Reece & Nichols, Baldwin State Bank, Kansas State Bank, American Family Insurance, Baldwin City Athletic Club and the Baldwin City Signal.
The one major change with the flags is that the Boy Scout Troop will be placing them in the morning Tuesday.
With increased funding and support, Kneedler hopes to restart the July Fourth celebration next year.
"I am hoping we can regroup and do this next year," Kneedler said. "We're not giving up on it. We just hope the year off gives us time to make it better next year."
Anyone wanting to help the CFBC or join can contact Kneedler or Nancy Walker. They can also contact the CFBC at P.O. Box 931, Baldwin City, KS, 66006.