Planes, trains and (award-winning) automobiles
An award-winning 1934 Ford Coupe owned by Baldwin City's Bud and Sandra Watson will be one of the many vintage vehicles downtown Saturday.
The Watson's car won the Event Director's Pick Award at the Mid-America Street Rod Nationals in Springfield, Mo., over Memorial Day weekend. That is the top honor given to a car in that show of 2,257 cars.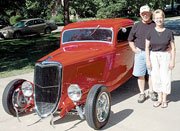 "I was flabbergasted and humbled that I won that award," B. Watson said. "I was really taken back that our car was picked. It was a once-in-a-lifetime thing and quite an honor."
That very same car will be one of about 75 that will be on display at the third-annual Planes, Trains and Automobiles event in downtown Baldwin City Saturday.
The Watsons will also have a 1956 Chevy pick-up on display downtown. They will be attending the annual event for the third time.
"It was a really good event last year," B. Watson said. "We have been to every event they have had."
This year's event hopes to build off the growth of last year's celebration.
"We expect a very big turnout," said Rita Madl, co-organizer of the event. "We have more vintage motorcycles coming along with more cars this year. We are just trying to find enough space for everyone."
Stan Vickers, co-organizer of the event, said the event should be a lot of fun, despite warmer temperatures.
"It's going to be a great show with a little bit warmer weather than I would like to have," Vickers said. "But we have a way of trying to deal with the hot weather."
One major change to this year's event is everything will take place on Saturday and not be spread out between two days.
"Last year we tried to do it on two days, but it will just be one day this year," Vickers said. "One day is better than two days, because everybody is tired after the first day. We are trying to pack it all into one day and have a great event."
The event will begin at 8 a.m. with the antique car, street rod and motorcycle shows downtown. The car and street rod show will take place at the corner of Eighth and High streets. The motorcycle show will be in front of Antiques on the Prairie at Sixth and High streets.
Vickers is in charge of the motorcycle show and he hopes for a large turnout this year.
"I thought I had brought my share of people to the show last year," Vickers said. "It should be the same this year."
Other events in and around Baldwin City include train rides at Midland Railway and plane rides at Vinland Airport. Fathers can ride the train with paid adult fare or two paid children.
New this year at the airport will be free rides for children ages eight to 17 from 9 a.m. to noon. Children must register at the front desk for rides. Members of the Vintage Aircraft Association will provide the rides as part of a Young Eagles Event.
Vinland Airport is located four miles north of Baldwin City on County Road 1055.
Vickers said the event sets up nicely with Father's Day weekend.
"I think it's going to be a pretty good event for fathers," Vickers said. "They will be able to get out and be involved."
Several other events will be happening in Baldwin. There will by a quilt show at the Baldwin Library, located at Seventh and High streets. The Lodge on U.S. 56 highway will offer free miniature golf for fathers. There will also be a Victorian Tea at Three Sisters Inn, located at 1035 Ames Street, from 2-4 p.m.
Also, many of the businesses in downtown Baldwin will be open for business and invite people to come inside.
"This is a open-door opportunity for our downtown businesses," Madl said. "They encourage everybody to come inside and see their stores. They also want people to come in and use their restrooms."
As far as food for the event, there will be barbecue at Eighth and High streets, a few other vendors downtown and the other downtown businesses will be serving food like normal.
"One thing new down here is the Jerusalem Cafe will be coming in with its catering wagon," Vickers said. "The barbecue will be on top of the hill, so we are spreading the food out this year."
"The bands are new this year and we will have three of the them," Vickers said. "The bands will start up at noon. The first two bands will play for an hour or two and the final band will be play for the street dance."
This year's Planes, Trains and Automobiles will also have a variety of music.
Beginning at noon and ending at 1:30 p.m., the Heebie Jeebies will be playing downtown. They will be followed by Billy Ebeling and The Late For Dinner Band, which will start at 3p.m. The final band will be Tailwagon, a Kansas City band, and it will start playing at 6:30 p.m.
Tailwagon will be playing during the street dance that will take place downtown during the evening.
Vickers hopes this event will become larger each year and eventually be the second biggest festival in Baldwin City.
"This is one of those events that will continue growing," Vickers said. "It could be the step-child to the Maple Leaf Festival. It's going to be the next big event for Baldwin."
For more information about Planes, Trains and Automobiles visit www.baldwincitychamber.com or call (785) 594-3200.