Parents and children visit Thomas the Tank Engine every year for various reasons. Some of those are stranger than others.
Two years ago Jackson Milford was brought to see Thomas for the first time as payment for an important life lesson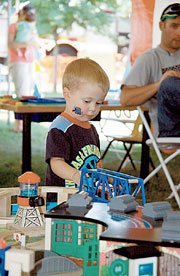 "His reward for potty training was a ride on a real train," Bruce Milford, Jackson's father, said. "It worked and he understands it all now."
Jackson, who is now 3-and-a-half-years old, has seen Thomas the Tank Engine for three straight years now and he enjoys every minute of his experience.
"He lives for it," Bruce said. "We've got an addict here. We have all of the stuff, like the videos, toys and clothes."
The Milfords,, who are from Lenexa, are one of many families that have seen Thomas year after year.
Sally Norman, Overland Park, came back to see Thomas on Friday with her son Caden, 2.
"He just loves Thomas," Norman said of her son. "We had such a great time last year that we came back. He's having a great time."
Mark and Brenda Coburn, Shawnee, brought their daughter Elizabeth, 5, down to see Thomas this year and Brenda was the one having fun.
"I love it and I'm having so much fun," Brenda Coburn said. "They have thought of everything. They even have peanut butter and jelly sandwiches for kids."
Last weekend marked the annual return of Thomas to Baldwin City. Day Out With Thomas 2006: Come Ride the Rails Tour ran all weekend and will end Sunday. Thomas is a cartoon character on Public Broadcasting Systems worldwide.
The primary attraction for the children is the 25-minute train ride. Jennifer and Daniel Robert, Overbrook, brought their son Brock, 3, to ride on the train Saturday for the first time.
"We took the train ride and that was lots of fun," Jennifer Robert said. "We are having fun."
Another family that made the trip to Baldwin for the train ride was the Bryant family from Odessa, Mo. Josh and Emily Bryant took their children, Hunter, 3, and Kiera, 2, on the train and enjoyed it Saturday.
"They like Thomas," Josh Bryant said. "My wife heard about it and got tickets for the 12:30 train."
This year's Thomas celebration offered a few new activities for children. Those included a straw maze, treasure hunt, LEGO Thomas and sandbox.
Tickets are available by calling toll-free 866-468-7630 or logging onto www.Ticketweb.com. For more information and directions, contact the Midland Railway at 800-651-0388 or visit www.midland-ry.org.