City council candidate Amy Cleavinger
Name: Amy Cleavinger
Occupation: Capitol Federal Savings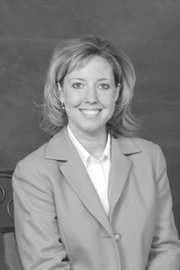 Vice President, Mortgage Lending Manager
Lawrence, KS
Years in Baldwin: 11+ (December 1993)
Previous Political Experience: Current City Council member, appointed December 2002
Why are you running for office?
I am running for a position on the city council because for the past two-and-a-half years that I have served on the council, I have enjoyed being a part of the progress we have made as a city, and I would like to continue working toward the many goals that we have set for the future. I am greatly appreciative of the opportunity that I was given to serve on the city council. I truly love living in Baldwin City, and it has been a great feeling to contribute and give back to a place that my family and I are very fortunate to call home.
What goals do you have for improving the city?
1. First and foremost, I would like to see the downtown revitalization project completed. I believe that our downtown area is a unique and valuable asset to our community, and one that deserves our attention and financial commitment. I also believe this project will increase the viability of the existing businesses, and will attract others to downtown Baldwin City as well. In addition to our efforts to improve our downtown area, I would very much like to see the restoration of the "Women's Bridge" located on High Street between 10th and 11th streets. This is an asset of great historical significance, and I believe it would be a disservice to not do everything we can to preserve this bridge.
2. I would like to continue working toward the development of new baseball and softball facilities located south of the Intermediate Center. Primarily due to the fact that the existing fields located at Baldwin High School will be replaced in the near future with a new auditorium, but also because I believe our community is severely lacking when it comes to recreational facilities. I would like to see our city leaders work together with USD 348 to see that this project is completed, and completed in a manner that we can all be proud of as we host ballgames and tournaments and welcome players, parents and fans from surrounding communities to Baldwin City.
3. Along this same line, I believe that the city should continue working with Baker University regarding the redesign of the Baker sports complex, including safety concerns related to foot/vehicle traffic, erosion and water management along High Street, and the lack of parking surrounding this area. I believe this project will allow us to find a permanent solution to the parking issue for our city pool, and will ultimately benefit our entire community as we continue to use Baker's facilities for so many community events.
4. The City of Baldwin Public Safety Committee is currently exploring options regarding the ability of our children to safely cross both U.S. Highway 56 at Eighth Street, and County Road 1055 along the west side of the high school. I believe this is very dangerous for the children of Baldwin City, and would like to see the council continue to work toward a permanent solution to this problem.
5. I have always felt very strongly about the need and the benefits of having a school resource officer in our public schools, and I would like to see the SRO program firmly established in Baldwin City. At present, we have a Baldwin City police officer serving in that capacity, but no specific funding set aside for the SRO program. Chief McKenna has been diligent in his efforts to secure grant funding for this position, but should that not materialize, I would like for the city to fully fund the SRO position, as it is very commonly done. In every instance that I am aware of, a school resource officer is a position funded by a city's police department, and not the local school district. Let's make it a priority to facilitate positive interaction between our kids and law enforcement officers at an early age, so that they will fall back on that experience when they reach a time in their lives when they might look to a police officer for guidance.
6. Finally, I believe that we need to continue working toward an updated comprehensive plan for the city. This plan will be critical in evaluating the many issues we will face as our city continues to grow and will allow us to be proactive in our thinking and decision making. I believe the projected growth of our community is manageable with appropriate planning, and that we will still be able to protect, and even enhance, the character of our city.
I strongly believe that the key to any and all of the above goals is responsible financial management and planning. Our city has made great strides in this regard over the past few years, and I would like to see those efforts continue. I believe it is critical to look ahead and try to anticipate large expenditures, equipment needs, capital improvements, and the like, and prepare and budget accordingly.
What problems would you like to address if elected?
See above goals
Do you favor establishing a business park in Baldwin? Why or why not?
I believe that a business park could potentially be of great benefit to Baldwin City, but I am not prepared to endorse the concept until we have agreed upon a current comprehensive plan to chart the future growth of our city. I believe it could be financially beneficial in easing the tax burden on residential homeowners, however, I would need to feel completely comfortable with the proposed location and how it relates to the vision we have for our city in the years to come.
Should the proposed downtown revitalization plan be paid (other than grant money) for by a benefit district or the city as a whole?
I believe that all of the citizens of Baldwin City would benefit from the revitalization of our downtown area. I would hope that we all feel a sense of ownership when it comes to downtown Baldwin City, and therefore I believe that the city as a whole should share financially in the small percentage of matching funds that are needed for this project.
Should a new rate structure for electricity be put in place as suggested? If so, how do you suggest losses in revenue be made up?
I am in favor of a new rate structure for our electric utility rates. The electric utility is strong enough now financially that it will be able to absorb the proposed loss in revenue by reducing the amount transferred annually to the electric reserve fund. This reserve fund is an absolute necessity, and one that will not be depleted by this loss in revenue, but will however increase at a slower pace than previously budgeted. The hope would be that continued growth in our customer base would eventually offset the loss in revenue.
Where do you envision Baldwin City being growth wise in 10 years? Do you favor that growth or oppose it and why?
I fully anticipate Baldwin City to continue growing at a rate of approximately 3 percent per year. I believe that Baldwin City is a very desirable community, and if we make some key investments now in our city, that attraction to Baldwin will only increase. Again, the need for a comprehensive plan will be very important in determining how our city prepares for that growth. I am not opposed in any way to managed growth, but I am opposed to losing the "feel" of Baldwin City that I have loved from the first time I visited Baldwin. I believe that we need to be as protective as we possibly can of that aspect, and of the quality of life that we all enjoy, while at the same time, plan and react responsibly to the growth that we know will inevitably occur.