Hayes seeks re-election as Baldwin mayor
Kenneth Hayes
594-3431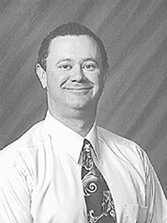 Cornerstoneken@hotmail.com
Occupation: Self-employed construction and commercial development
Years in Baldwin: 24 years
Previous Political Experience: Mayor of Baldwin 2001 to present
Why are you running for office?
I am running for re-election to serve the public and to complete the projects that were started in the past four years. Baldwin has given a lot to me over the years and I try to repay that debt with public service, my time and efforts to make our city a greater place to call home.
What goals do you have for improving the city?
The question of goals is really a broad based question. A balanced budget with low property taxes and utilities that pay their own way would be the first goal that comes to mind. Other goals run the gambit from more playground equipment, sidewalks, more job opportunities for the residents of the city, rebuilding the downtown, and maintaining Baldwin's small town feel while providing reliable city services.
What problems would you like to address if elected?
Our problems range from a water supply line in the Baker wetlands that desperately needs to be relocated, to lack of restrooms at our public parks. In other words they range from big to small, critical to very mild. But my list of priorities would be bridges, water supply line, public parks and ballfields, job opportunities, and lowering utilities.
Do you favor establishing a business park in Baldwin? Why or why not?
I support the concept of a business park in Baldwin for a host of
reasons. First it would attract business and put property tax that is
non-residential on the tax rolls. It would offer jobs here in town, and
thereby put more money in our local economy. To oppose a business park is to say no to taxes being spread out to other entities other than homeowners. To oppose a business park is to say no to employing our citizens here in town. This issue is of course a hot button for the city but if we do not try to develop a business park then we effectively turn our backs on any opportunities that would aid in increasing our tax base and sources of employment and tax revenue. I don't feel like letting these opportunities just pass us by to other cities. By doing so we put a huge chunk of our working people on the road to commute and thereby support the economies of surrounding cities.
Should the proposed downtown revitalization plan be paid (other than grant money) for by a benefit district or the city as a whole?
The downtown redevelopment initiative is very important to the city. I believe that a mixture of monies should come from the property owners in the downtown area and from the public as a whole. In my opinion we all "own" the downtown of our city but the landowners of downtown stand to gain financially from improvements paid for by grants and our resources. A formula for participation from the public and the property owners affected
needs to be worked out.
Should a new rate structure for electricity be put in place as suggested? If so, how do you suggest losses in revenue be made up?
The rate reductions should be passed and implemented. The losses of revenue will take care of themselves by the addition of new customers on the system which can now handle additional customer loads and by improved efficiency of the city departments. The use of the term "loss" implies the utilities will be a losing proposition. They have to be provided as economically as possible but effectively. The current rate reductions come from three factors. The addition of new customers, good business practice in
refinancing the utility debt, and increased efficiency from infrastructure that is either rebuilt or in the process of being rebuilt.
Where do you envision Baldwin City being growth wise in 10 years?
My estimation is that Baldwin will continue to grow at about the same pace it has over the last four years which is barely over 3 percent. I have heard that our fast paced "growth" is a problem. I find this to be somewhat curious. If our city were a dollar bill, and it grew 3 percent in a year that is three cents. Three cents on a dollar is not what I would describe as out of control growth. Visually our city is changing drastically but as far as population and homes it is a very controlled and manageable 3 percent. At the current rate our city will be at a population of about 4,800 people in 2015 not
counting Baker students. I don't consider this to be a huge amount of growth at all. Also we are geographically far enough from major cities and trafficways that it is doubtful that external forces will increase this rate by much if any at all.
Do you favor that growth or oppose it and why?
I favor growth because you are either growing or depopulating which is a very bad thing. If you look at a lot of cities in western Kansas they would kill to have our modest 3 percent growth. The economy and the internal controls of the city maintain controls on growth. For instance the development that Baldwin has seen in recent years has provided a supply of residential lots that will last in my opinion to the end of the decade. To oppose growth is to say in short, we will rely on our current population without additions to
provide the tax base to support our city. We will not encourage new
business, new homes, new improvements or new ideas to come to town. Our growth is managed and contained by economic forces and should not be tampered with by government regulation.