Brown is unopposed for city council post
Name: Tony Brown
Telephone number(s): 594-2596 (home), 594-8366 (work)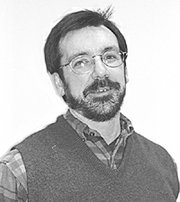 Occupation: college professor
Years in Baldwin: 10
Previous political experience: Member, Baldwin City Council,
March 2004 to present
Why are you running for office?
I believe it is important for individual citizens to be active in their communities in substantive ways. Unfortunately, my personal skills are of little practical use to the residents of Baldwin City. Serving on the city council is a way I can give something back to the community that has been so good to me and my family for the past decade.
What goals do you have for improving the city?
Three issues that citizens consistently desire from their local communities are affordable housing, high quality schools, and the availability of recreational opportunities. I do not believe these are incompatible goals. To ensure affordable housing, we need to continue to strive to reduce local tax and utility rates. However, achieving such reductions by significantly cutting our educational and recreational programs would be damaging to the overall health of the Baldwin City community. I will strive for balance between these goals during the completion of my term.
What problems would you like to address if elected?
One of the growing concerns I have is that we have little community consensus on the future of Baldwin City. We have significantly improved the quality of our infrastructure over the past four years, but these efforts have limited our discussion of other important issues. During the remainder of my term, I would like to participate in updating the city's comprehensive growth plan and in developing long-range plans regarding community services provided through local government offices.
Do you favor establishing a business park in Baldwin? Why or why not?
I believe establishing and aggressively marketing a business park in the Baldwin City area is a good investment in the future health of the local economy. The tax base support provided by local businesses is essential if we are to maintain a reasonable tax rate for residents. In addition, at the current rate of growth, the labor force will grow by approximately 600 workers over the next 10 years. These future residents will be better, more invested members of our community if they are able to both live and work in Baldwin City.
Should the proposed downtown revitalization plan be paid (other than grant money) for by a benefit district or the city as a whole?
Urban planning studies suggest that vibrant downtown districts benefit all residents of local communities by fostering pride within communities and attracting visitors to them. Along with the Lumberyard Arts Center Project, we have an opportunity to make the downtown district a showplace in this part of Kansas. Because of the broad benefits of downtown revitalization, I would argue for economic support for this project from all Baldwin City residents.
Should a new rate structure for electricity be put in place as suggested? If so, how do you suggest losses in revenue be made up?
I support the mayor's proposal to reduce utility rates for residents of the community. I do not, however, believe it is appropriate that these rate reductions be subsidized by local business owners, or by members of sororities and fraternities at Baker University. Unless utility rate reductions can be structured in an equitable manner, I do not believe a new rate structure for electricity should be put in place.
Where do you envision Baldwin City growth wise in 10 years?
Even at a modest annual growth rate of 3 percent, Baldwin City will be a community of nearly 5,300 residents by 2015, an increase of nearly 35 percent of the current population. This substantial cumulative growth will require planning on multiple issues, from land use, housing, and provision of public services to expansion of educational and recreational programs. While this future growth will certainly present challenges for all of us to address, it will also create opportunities for new initiatives that could improve the quality of live for all residents.
Do you favor that growth or oppose it and why?
I believe the proximity of Baldwin City to the metropolitan Kansas City and Lawrence areas makes opposition to growth unrealistic and unwise. We could certainly discourage growth by making Baldwin City an unattractive community in which to live, but such action would not seem to benefit current residents. A viable alternative is to plan for growth that is both manageable and compatible with long-range community goals.