Board position No. 5 candidate Bill Busby
Bill Busby
785-594-6644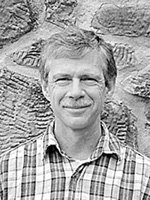 wbusby@ku.edu
Associate Scientist at the Kansas Biological Survey
Years in Baldwin district: 16
Previous political experience: none
Why are you running for office?
I am running because I want to serve the school district. I have two children who attended Vinland Elementary and currently are at the junior high and high school, so I have years of experience with the Baldwin school system. I will be a strong advocate for excellence in education and will look hard for ways to achieve this.
Goals for improving the school district?
A central goal is to continue to strive for providing high quality educational opportunities for all students at all levels. Another goal is to improve working conditions for teachers so that we can attract and retain excellent teaching staff.
Problems to address?
Tight school budgets are our biggest problem at present. We have been cutting positions, services, and course offerings. I feel it is important to allocate scarce funds carefully so as to derive maximum benefit. Careful analysis must be used before making tough decisions on what to fund and not fund. Another finance-related item is the need to get more support for the Baldwin Education Foundation, a private, non-profit fund-raising organization that has the potential to infuse money into the district. Similar foundations have provided significant support in other school districts. Finally, increases in enrollment due to population growth are an issue we are likely to face for years. I would like to contribute to thoughtful long-term planning so that we are ready for this growth.
Favor closing rural schools?
Closing rural schools has been advocated by some as a means of saving money. If rural schools face continuing enrollment declines and are a significant drain on financial resources in the district, then something must be done. However, the population growth the county has been experiencing, especially in rural areas, makes me question whether closing these schools would be in our best long-term interests. We need to address short-term budget problems within the context of long-term scenarios.
New high school auditorium?
It would be great to have a high school auditorium as originally envisioned in the high school plan. The question of when is the best time to act will depend on a cost-benefit analysis of all the implications of this addition. It also will depend on the communities' willingness to approve a bond issue.
Performance of the administrative team and teachers?
In general, my experience has been that the teachers and staff are very committed and do a good job. Of course, we should always strive for improvement in teaching and leadership, and in that sense I hope never to simply be satisfied.
Growth?
The district is growing and will continue to grow given the continuing expansion in the Kansas City to Lawrence and I-35 corridor. We need to be ready for growth by carefully planning expansion at the appropriate pace. Growth will present major challenges but will also provide opportunities for a stronger, more diverse and efficient school system. Our degree of success in managing our school's growth and direction will also reflect on the community and influence what type of community Baldwin becomes in the future. I would encourage all of us to consider this issue.
Assessments?
State assessments are one measure of educational achievement and quality. Given the requirements of the federal No Child Left Behind policy, we have no choice but to continue to pay close attention to state assessment testing. However, standardized tests do not and will not cover all subject areas (for example, art, music and sports) and also do not measure whether a balanced, well-rounded education is being achieved. Accordingly, we need to pay attention to more than just test results.
More like this story