Board position No. 4 candidate Doug Mead
Occupation: Finance
Education: BA, University of Kansas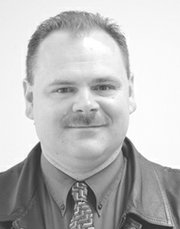 MBA, Baker University
Years in Baldwin District: 9 years
Previous Political Experience: None
Why are you running for Office?
I want to address the budget concerns that our district has endured for countless years. Considering the tax dollars we pay, I am hard pressed to believe there is not enough money available to properly educate our children. It's time some hard questions are asked and honest answers are forth coming. I want to start right here in our district and follow the trail to Topeka. We need to hold our elected officials accountable to provide the tax dollars with which they have been entrusted.
I am also very interested in following the curriculum and ensuring that our children are being taught the fundamentals of education. Personal agendas, moral ideologies and suspect "educational" material should be left out of the classroom.
What goals do you have for improving the school district?
My priority is to ensure the funds are available to provide a sound education for the kids, without adding to our already over burdened tax load. Second, we need to stay on top of our State Representatives and communicate our needs to them to ensure we are receiving the proper representation at the state level. Third, families have to stay involved with the education of their children. Teachers, children and parents are responsible for the education process and we need to make sure everyone is doing their job.
And, finally, attention needs to be placed on retaining our best teachers. Any successful business understands the need for key employees and those teachers performing at the top should be rewarded accordingly.
What problems would you like to address if elected?
I want to address the fiscal concerns USD 348 is facing. There is no reason this district should be facing budget crunches for education. Our state representatives need to be held directly accountable for any lack of funding our district faces.
In addition, we need to maintain state of the art facilities with the equipment and materials necessary to properly educate our children in an increasingly technologically advanced world.
Finally, questions need to be answered regarding the district's somewhat poor showing in regards to No Child Left Behind. It seems as though our individual schools fared well, but the district did not? Either we achieved our goals or we didn't. We, as a district and community, should be setting the example, not just meeting standards.
Do you favor closing either of the rural elementary schools? Why or why not?
I do not favor the closure of Marion Springs or Vinland. Marion Springs has won nine Standard of Excellence Awards in the past five years. In fact, Marion Springs is one of only eight schools in the state of Kansas to win the award three consecutive years. Both schools consistently perform at the top of our district year after year. Further, we must consider the growth of our district and the need for both of these outlying elementary schools to reduce the burden of overcrowded classrooms.
Should the proposed auditorium be built at the high school or should the project be delayed?
Quite frankly, I view the auditorium as more of a luxury than a necessity. Considering the budgetary concerns currently facing the district, we should hold off on any major financial commitments. We need to employ good old fashioned common sense and make certain we have our financial house in order before we increase our debt load.
If an auditorium were a necessity, we have a unique opportunity with the proximity of Baker University and should consider a partnership with the University.
Are you satisfied with the performance of the administrative team and teachers in the district?
My experience with the teachers and administration has been fantastic. They are doing a great job with the resources available. As always, there is room for improvement, but overall their performance has been well above average.
Where do you envision Baldwin City being growth wise in 10 years and how does that impact our district?
Undoubtedly, Baldwin will continue to grow. We were the best kept secret in the county, but word has gotten out! Growth in the district will lead to an increasing dependence on our rural facilities. Specifically, I would expect a significant amount of the growth to occur along the 1055 corridor, which will have huge implications on the importance of maintaining our elementary school in Vinland.
Do you think the various state assessment tests and others are a good gauge of what the quality of education is in our district?
I have never been a proponent of standardized tests and believe they represent a very poor indicator of education on an individual basis. True assessment will only occur when parents are actively involved with their children's education and the lines of communication between the parents, teachers and children are open