BHS

junior improves to fair condition
Anthony McClintock, the 17-year-old Baldwin High School who was injured in an altercation at the school Thursday, is out of the intensive care unit at the University of Kansas Medical Center and is listed in fair condition.
McClintock was taken by helicopter ambulance Thursday around 1 p.m. following an altercation in shop class that was "rough housing that got out of hand," according to Sgt. Colleen Larson of the Baldwin City Police Department that investigated the incident.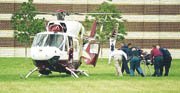 The BHS junior underwent emergency surgery Thursday as a result of a blow to the head from a broom delivered by another BHS junior, Kenneth S. Goff, also 17. Goff was arrested by Baldwin City police. He was charged with aggravated battery Friday in Douglas County Juvenile Court and made his first court appearance Tuesday.
McClintock spent the first day in critical condition at the KU Med Center. He was upgraded to serious condition Friday and by Monday was taken out of ICU and upgraded to fair condition.
"The student had surgery at the KU Med Center Thursday afternoon and seems to be doing better," said James White, Supt. of Baldwin schools. "I've been told he has more feeling in his hand, but is still partially paralyzed on the right side."
Sgt. Larson confirmed the improvement, but also said it's too early to tell the extent of the injuries.
"At this point, he's getting feeling back," she said. "It's still early with an injury like that."
Sgt. Larson confirmed reports that Thursday's incident started as "horse play" between the two boys, but suddenly went wrong when Goff allegedly struck McClintock with the broom.
"From all accounts we're hearing, it was rough housing that got out of hand," said Larson, adding the reason for the arrest and the charge. "He did swing to cause harm. They were pushing and shoving with the broom. I honestly don't think that was intent (to cause the injury)."
Although it's been characterized as an "accident," Supt. White said it must have been more which resulted in the charge.
"Evidently from the police report they must be calling it something more than that (an accident)," said White. "We still have not received a police report."
White and other officials were besieged with media requests following the incident, but had to stay tight-lipped until the investigation was completed.
"You'd like to be able to say it's an isolated incident and go on, but you can't," said White.
Other concerns raised included the absence of the shop teacher, Jim Oatman, from the class at the time of the incident. White does not believe the teacher was at fault and disciplinary action hasn't been discussed.
"I think being fair with the teacher, he wasn't in the classroom and he should have been," said White. "I don't think he is responsible for this. It was a situation that happened quickly and he wasn't there. I don't know that it would have made any difference if he would have been there. He could have been right there in the room and it still would have happened."
Despite the tragedy as school was coming to a close (school dismissed for the summer on Friday), White thought all involved handled the situation well.
"Our staff responded well and our local medical authorities and law enforcement authorities were right there," said White. "I couldn't be more pleased with how they responded.
"I told the staff Tuesday that we had had an exceptional school year until those last two days," he said.