Baldwin High sweeps pair of doubleheaders
It was time for the Baldwin High School softball team to get out the brooms last week. The Bulldogs swept a pair of doubleheaders.
First, at home, the Bulldogs blanked Paola 9-0 in the opener and squeezed out a 6-5 victory in the nightcap on Tuesday. On the road Thursday, BHS shutout Louisburg 7-0 and followed that with a 10-6 slugfest win.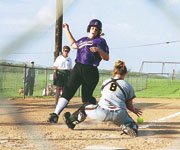 "We won four games last week. It was a good week," said coach Ginny Honomichl. "When I look back at the past two week span, we've only lost one game. I'll take that."
The victories moved Baldwin High's overall record to 9-2 and 9-1 in Frontier League play. The Bulldogs squared off against unbeaten Anderson County Tuesday night, but results weren't available by press time.
In the victories over Paola, the pitching was provided by Kyrstan Hubbel who threw the shutout and Katie Martin. Hubbel allowed just two hits and two walks while striking out three. Hubbel started the second game, but Martin took over in the late innings to pick up the win.
Martin provided most of the offense in the opener, going four-for-four with a pair of doubles. She scored four runs. Jodie Bacon and Mandy Daigh both had a pair of hits. In the second game, Kristen Wessel had three hits and Kayla Pringle and Daigh each had a pair.
In Thursday's white-washing of Louisburg, Hubbel again went seven innings without giving up a run. She improved her record to 6-2 on the season. Hubbel and Martin again shared duty in the second game, with Martin picking up the win to improve to 3-0.
Martin and Wessel each had two hits in the opener. In the second game, Bacon, Martin and Pringle had three hits. Suzie Weege had two hits, including a triple. Wessel also had two hits and Daigh also had a triple.
"We hit the ball well against Paola and Louisburg," said Honomichl. "That part of our game is coming around and that is always good."
Besides Tuesday's game, the Bulldogs are also in action Thursday at Wellsville.
"It's a big week for us," she said. "Every game is big. We address them all like they're going to be tough."
BHS's junior varsity also had success last week, winning three of four games.
"It was a good week for them, too," Honomichl said.