Library renovation set to begin
When Baker Librarian Kay Bradt first visited Baker's library 26 years ago, she saw a large open space with desks lined up in rows. "It looked like a cafeteria, not a library," said Bradt, library director.
Bradt's desire for a state-of-the-art facility will become reality when work begins next month on the $6.3 million renovation of Collins Library. Construction is expected to be completed in January 2003.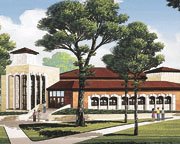 "It will be wired to meet the kinds of needs we have today compared to 1960," Bradt said. "They weren't even using electric typewriters when the library was first built. That tells you a lot has changed."
The renovation will add an additional 15,000 sq. ft. to the 30,000 sq. ft. building, and the main entrance will be moved from Eighth Street to the center of campus. The roofline and exterior fae will be brought more into line with other buildings on campus, and the interior will be reconfigured with new classrooms and work space to better meet the needs of today's students. Bradt said the library's last update was in 1980, but it was minor, consisting of new carpet, blinds, and upgrades of systems.
"The new library will revolutionize the way we go about disseminating information, because it reflects the newest technology," said Baker President Dan Lambert. "I think it will be one of the finest of the small college libraries around. It's going to have significant impact on our campuses."
Stuart Dorsey, vice president and dean of the College of Arts and Sciences, said the larger space will be welcome for students, and make the library much more accessible.
"It will be a real study center for the whole campus," he said.
The new layout
The first floor of the new facility will house the Learning Resources Center, English as a Second Language (ESL) room, computer service department and several technology-oriented rooms. The integrated media and technology classroom will allow students to watch broadcasts via satellite. The faculty resource room will provide technology support to staff creating projects for the classroom.
Bradt said one highlight of the first floor will be a large open space with tables and chairs for students and faculty. The furniture can be moved around to accommodate individual studying or group work.
"The room will fit whatever the need of the moment is," Bradt said. "It means the building can change when student needs change. Flexibility is the key."
All reference materials and the reference desk will be on the second floor, along with library staff offices. A small classroom will be available for teaching students research techniques.
Bradt said she is particularly excited about the four or five group study rooms being added. Each will have Internet access and will be available for video viewing. Bradt said the rooms will allow students to work together and talk without bothering other library users.
"We were aware from other institutions that there was a need for this," she said. "More professors are assigning small group work. The old library wasn't conducive to this."
The majority of the third floor will house the library's books and journals. The music library from Owens Musical Arts Building will be relocated there and a special music and video listening room will be created. For education students, there will be a curriculum room with current textbooks.
"Everything will be open for students to access on their own books, journals, videos, and documents," she said. "It will be much more convenient for students."
The archives will remain in the current location at the south end of the lower level.
The interim library
During the renovation, a temporary library has been established in Mabee Gymnasium. Lesser used journals and census materials are being stored in the basement of Irwin Hall and archives has moved to the Old Castle Museum. Requests for special materials could take up to 24 hours, Bradt said.
"We'll fill requests once a day, but if it looks like there's a need, we'll increase it to twice a day," she said.
All library materials from books to journals will not be directly accessible by students. Materials will have to be requested at the circulation desk and library staff will retrieve them. Aside from heavy library users, Bradt said she doesn't expect most students to mind a little inconvenience. The biggest issue will probably be a lack of study space, she said. The temporary library will only have four or five tables, down from the usual 30.
"I hope they'll find it's not as bad as they anticipated," she said. "We have a few more student assistants hired for the fall because we know we'll be busy."
Senior Ben Chapman from Ottawa said that although he will graduate before the new library is complete, he is excited about the construction. He shrugged off concern about inconvenience.
"Now it's just closer to where I live," he said. "When it's finished, it'll help make this one of the most beautiful campuses around."
Junior Leslie Harrison from Leawood was also positive about the project.
"It will be a little inconvenient, but I'm excited about it," Harrison said. "I definitely think we needed renovation to the library. It was a little outdated."