Safety Day a hit at Baldwin High
Baldwin City wasn't exactly normal on Thursday. Students were seen walking around town during school hours. As for the high school building, there was a wreck in the parking lot complete with ambulances and even a Life Flight helicopter.
Thursday was the first-ever Safety Day. While students in the ninth and tenth grades walked around the city picking up trash, upperclassmen spent the day learning about the decisions to be made throughout life and the effects those decisions can have.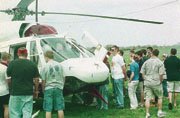 The day started out with a speaker, Jill Street. Street spends her time traveling to different schools and meetings talking about the effects of her decisions that have paralyzed her from the waist down for life. She spoke to students at Baldwin High School about the night that changed her life, when she decided to drive home from a concert after taking several medications and then drinking and falling asleep at the wheel and losing control. Thirty-three days later, after waking up from a coma in the hospital, she realized that she had suffered from an injury to her spinal cord and would never be able to move her legs again. Her message was to always be protective of the brain and spinal cord, wear a seat belt, and make sure to be safe.
"It (Safety Day) really makes you think twice about what you do," said senior Molly Engelbrake.
Next, students split into groups and attended several sessions throughout the morning, two speakers and three hands-on simulators.
One speaker was Diane Ash, a prevention specialist for the Lawrence School District, who spoke on the effects of drugs. She in formed students about how drugs that people may think are safe or that leave your system immediately after the effects have worn off, can actually stay in the system for a very long time and have permanent effects on the brain and the body.
"I hope that I stimulate conversations and cause people to talk about things. I hope they get discussed and maybe looked at in a different light," said Ash.
Another speaker was a nurse from ENCARE, Emergency Nurses Cancel Alcohol Related Emergencies. He showed students a slide show depicting several accidents of people who have decided to drink and drive. He also told a few of his experiences working in the emergency room.
"The ENCARE session was informative, it provided knowledge with also a little bit of scare. It made you think," said senior Chris Brown.
"The ENCARE session was very informative and slightly disturbing," said junior Anthony McClintock.
The three simulators gave students opportunities to feel some of the dangers without having any of the long-term effects that they can have. Students got to drive golf carts while wearing drunk-simulating goggles, ride in a 5 mph crash simulator, and participate in a seat belt relay.
"It was an eye-opening experience. The dangers of driving drunk are real," said senior DeAnna Darting.
Students had to drive through an obstacle course and try not to hit cones. Throughout the whole day, only one student successfully completed the course without hitting anything.
"Those cones are lucky they aren't real people," said junior Hans Broers.
In the crash simulator, students were strapped into a machine that simulated the impact of a 5 mph crash.
"Using the convincer is a good way to demonstrate a head on collision at only 5 mph, just to imagine how bad it would be at 70 mph," said junior Mike Erickson.
BHS junior Tyler Trowbridge was the driver of a vehicle for a simulated fatal crash for students to see the actions of rescue personnel in such a situation. Seniors Lindsey Poage and Suzie Weege were the other make-believe "victims" of the crash, with Poage being loaded into a helicopter to be flighted to a hospital. Fire and police personnel demonstrated how victims were rescued from the crashed vehicle.
Lunch was served by Subway and KLZR was on hand for musical entertainment and with prize giveaways.
Overall, the day was a success. Sponsor and school resource officer Mike Gammage said in his speech at the beginning of the day, "You never hit a home run your first time out, but we're hoping for at least a double or a triple with this day."
After the event, he said, "It went above and beyond my expectations. I've received nothing but positive comments from teachers, parents, and especially students."
BHS is planning on holding the event again next year.
"I'd love to see a Safety Day and Make a Difference Day run in the same format next year," said BHS assistant principal Allen Poplin.