Bulldogs snap 'streak' with two wins
Baldwin High School's losing streak in softball didn't last long. Try one game. The Bulldogs swept a pair of games from Frontier League foe Eudora Thursday to quickly turn their record to 2-1 on the young season.
"It was nice to get our first two wins in league competition under our belt," said coach Ginny Honomichl. "We got to score some runs and in the second game we got to play everybody, so it was a good day."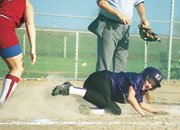 BHS blasted Eudora 7-3 in the opener. The Bulldogs followed that with an 8-1 victory in the doubleheader nightcap. It was a considerable difference from the 1-0 loss to Hays in the opener where both teams only had two hits.
Baldwin jumped out to a 2-0 lead in the first inning of the first game Thursday. The Bulldogs would never trail. Junior shortstop Jodie Bacon jump-started BHS with a leadoff single. Second baseman Kayla Pringle then reached on an error and the Bulldogs were off and running. When it was over, the lead was in place and would stay there.
Eudora answered with a run in the bottom of the first, but BHS countered with two runs in the third, a single tally in the fourth and two more scores in the fifth.
Center fielder Katie Martin had the lone extra-base hit with a triple. Runs batted in went to Martin, third baseman Suzie Weege (twice) and Pringle, who had two hits.
Junior pitcher Kyrstan Hubbel picked up the win with seven inning's work. Hubbel gave up five hits and only two walks. She also struck out four. Only two of the three runs were earned.
In the second game, BHS waited until the second inning to take the 2-0 lead. But, the Bulldogs followed with three runs in the third and single tallies in the fourth, fifth and sixth innings to record the 8-1 win. RBIs were recorded by Mandy Daigh and Kristen Wessel. Martin picked up the pitching victory with relief help from Hubbel.
It won't get easier for the Bulldogs. They played Gardner Tuesday at home (results weren't available by press time) and are on the road Thursday to Spring Hill.
"Both Gardner and Spring Hill have quality programs," said Honomichl. "It will require our best effort."