Baldwin ducks tornado as storm sirens sound
For a few minutes Saturday night, a funnel cloud dropped groundward as it headed to Baldwin City. Storm sirens were sounded and residents scurried to cover. But, almost as quickly as it descended from the wall cloud, the potential tornado went back up.
Not very many people actually saw the funnel cloud. Lowell Stansberry and his sons Glen and Edd did, however. They were on their porch about a mile and a half south of Baldwin when the wall cloud gave its glimpse of the funnel around 7 p.m.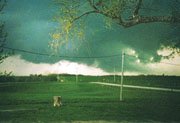 "From our vantage point, it was ugly," said Lowell Stansberry. "It had to have been at least a half-mile wide and it was at least 70 percent on its way to touching ground. I thought it was going to touch down. It was really an impressive sight.
"It looked like Baldwin was going to be history," said Stansberry. "It lasted for about a minute. Then it went back up. Just as it went over Baldwin, instantly it went back up. We're at a good vantage point up here on the hill. We were watching it come down. It was close."
If that account isn't enough, Stansberry has more. He videotaped the cloud and it dramatically shows how the funnel cloud came down and then went back up. It's an impressive sight, too.
But other than high winds, about an inch of rain and plenty of small hail, Baldwin City escaped the wrath of what could have been. In fact, last Wednesday's ferocious winds clocked in the 70 mph range did more damage around the area than Saturday's near-tornado storm. Several barns and other storage facilities to the north, east and west of the city succumbed to the gale-force winds.
Ironically, one of those storage facilities that bit the dust was less than a quarter mile north of the Stansberry place. Bob Madl watched Wednesday as a tin shed that had been on the home place for decades was uprooted and laid down into a pile of rubbish.
"I watched it from the house," said Madl. "It just picked it up and tossed it down. Those posts holding it were four foot deep. I was afraid it was going to toss it into the power line, but it didn't. It sent tin everywhere. I had to go get some that was across the road."
He wasn't alone. A barn north of Baldwin and east of Vinland was picked up on one corner as well. To the west, a newly constructed garage and storage area was splintered by the wind, leaving the wreckage among a boat, jet ski and tractor. Neither owner was available for comment.
But in Baldwin City, on both occasions, damage was light. There was tree damage, of course, but there were no power outages. In Baldwin's recent past that is news big news.
"We have made a significant leap with the performance of the electrical system," said Larry Paine, city administrator. "The system is doing what we wanted it to do. We wanted it to be more reliable and it has been."
There are two major reasons for that. The infrastructure improvements that have been made to the once ancient power grid have proven their worth, Paine said. Also, an aggressive tree trimming program to keep limbs off power lines has also paid dividends, he said.
"We didn't have much damage," said Paine. "What work we did in February did quite a bit to help us with the problem of tree limbs falling on power lines. In addition, the upgrades of power lines in the city also paid off."
Another item Paine is pleased with is how the warning sirens in Baldwin worked during Saturday's tornado threat. He doesn't take credit for that, either.
"The system works," said Paine. "They are controlled from the Douglas County Emergency Preparedness office in Lawrence. They were watching what was going on and they sounded the alarm.
"They did what they were supposed to do about warning us the sirens went off three times," he said.
Most Baldwin residents were in basements and other safe places as the sirens wailed. Luckily, that funnel cloud went back up instead of down. But for more than a few minutes Saturday night, Baldwin was on the verge of disaster. A collective sigh of relief replaced the siren's sound when it was over.