Hays bounces Bulldogs again
It was deja vu all over again for the Baldwin High School softball team Friday almost. It was less than perfect weather conditions and it resulted in a 1-0 loss.
But, unlike last year, this won't be the only home game of the season for the second-year team.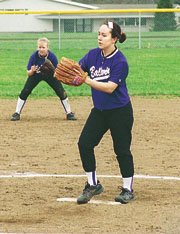 "No, it won't be," said coach Ginny Honomichl. "A lot of people stopped by. It all worked out real well."
There was a good crowd on hand despite a change in location. The field at BHS was unplayable because of wet conditions, so it was moved to Baker's softball field just west of Liston Stadium.
That the game was even played was no small feat. Weather forecasters had predicted with certainty that storms would boil and dump loads of rain both Thursday and Friday. Didn't happen, but the threat was there for both days, with humidity thick as soup and clouds just ready to make good on those predictions.
"I'm just glad we got it in," Honomichl said of the game amid the dire predictions.
And what a game it was. Of course, that's if you like defense and pitching plenty of pitching. There were only four hits in the game, two by each team, and only the one run.
In fact, standout BHS pitcher Kyrstan Hubbel had a no-hitter going through seven innings. Unfortunately, that string came to an end. As did the error-less string up until then.
A Hays batter laid down a dribble bunt. The infield pounced on it, but the coverage at first base didn't hold up. The ball was thrown there, got away and Hays was in business.
"We just didn't cover first well enough on the bunt," said Honomichl. "The ball went under the fence, the girl got on second and the next girl doubled. That was it.
"Little bit here, little bit there, but that's softball," she said. "It was just a good game."
As for the lack of offense, Honomichl wasn't surprised. Inclement weather has kept the Bulldogs gym-bound instead of diamond-bound for most of the spring season. BHS only had two hits, both by junior shortstop Jodie Bacon.
"We got a hit in the third (inning) and the sixth," said Honomichl. "Jodie got both of them. They had a quality pitcher. I knew we were going to be behind there because we haven't been able to get outside against live pitching."
The Bulldogs were also hampered with a pair of seniors held from the game for missing a practice. Third baseman Suzie Weege and left fielder Tarin Troth both set out the first game, which left the Bulldogs with three freshmen starters. Another two freshmen played in the game for a total of five. It was good experience, which will pay off down the road, said Honomichl.
"We're young," she said. "We've got a busy week ahead of us. Once we get going, weather permitting, we go from one game to the next."
Next up is a Thursday date at Eudora. Both varsity and junior varsity teams will play. Action starts at 4:30 p.m.
"It's the debut for the JV," she said. "That should prove interesting."
Next home game will be April 17 against Gardner. It sets up a constant schedule for BHS at home on Tuesdays and on the road Thursdays in Frontier League play.
Of course Friday's opener wasn't a part of that league plan. It's turned into a mainstay for BHS, as much as two years can do, with the game against Hays. The Hays squad plays in a tournament at Spring Hill traditionally and has now found a new stopping place the Friday before. BHS has thrown a feed for the Hays team afterwards and it looks like it will become a tradition and maybe turn into a doubleheader.
"They enjoy coming," said Honomichl. "They're looking at playing a doubleheader with us next year. They may only be guaranteed two games in the tournament next year, so they could play us another game.
"They're good competition," she said of the Class 5A school. "It's fun. If they're willing to drive this far, we're willing to play them."
The head coach is also plenty pleased with the effort of her squad for the opener. It may have been a loss, but there's nothing to hang heads about. It's just a matter of getting the bats going.
"I'm proud of them," she said. "I've got the right team. They stuck together. They gave it their best shot."