BHS

French students tour Paris, etc.
On March 19, 11 Baldwin High School students and their teacher, Karen Moreau, traveled across the sea to France and then did their home stays in Geneva, Switzerland, and arrived home on April 2.
The 11 students that attended the trip were seniors Alison Collins, Stephanie Jarvis and Kristi Ward; juniors Sarah Beaulieu, Eric Black, Liz Manker, Brett Myrick and Jeff Wagner; and sophomores Brenda Denney, Brian Lauridsen and Anthony Myrick.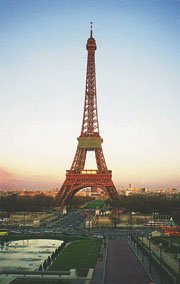 "I think most of the kids were pretty excited about it and the towns that they liked the most were Dijon, Annecy and Paris. At Annecy they got to see the lake and mountains," said Moreau, BHS French teacher.
The places they visited were Palais which is in Dijon, Basilica of Mary Magdelene which is located in Vezelay, Medieval Charity Hospital which is located in Beaune, Roman Ruins which is located in Lyon, Venice of Savoy in Annecy, Versailles, Notre Dame, The Louvre, Orsay, Eiffel Towel, and Arc de Triomphe in Paris. Most of the time the students rode the train but from Geneva to Paris they rode a high speed train called the TGV.
When the students did their home stays they were all over; some were in the immediate city and some were out in the country part if Geneva.
"I enjoyed the trip a lot. It was one of the best experiences in my life. The best part of the trip in my opinion was when we did our home stays. My family was the best," Collins said.
According to Moreau, some of the things that were different from previous trips were the flashing light bulbs that were on the Eiffel Tower, and the Ferris Wheel that was in the middle of town in Paris.
"As I sit back and reminisce about our trip so many great memories come to mind. But I would have to say the most memorable thing was the Cere de Trumph. It was our first day in Paris, despite the 284 some odd stairs we had to climb, that just about killed me. When we got to the top it was great, you could see the Louvre, Eiffel Tower and all sorts of other things. That would be by far the best. I would like to thank Mrs. Moreau for putting up with me for two weeks. Overall the trip was great. A good time was had by all," Wagner said.
It appears that the French class enjoyed themselves very much and that all the money it took for them to go was definitely worth every penny.