Memorial Day service honors all veterans
With a membership of mostly World War II and Vietnam War veterans, the Lloyd Beaton Post No. 228 of the American Legion will be led for the next year by a veteran who served in Bosnia just a few years ago.
The Legion's youngest member, Aaron Winkleman, will begin serving as post commander in June. He is 25. He follows the leadership of Commander Fred McCreary, who has held the position for two years.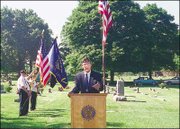 "For Aaron to be a young commander is unusual," McCreary said. "He has a lot of leadership qualities. He always helps with what we do. He comes up with new ideas. We knew he would be a good commander."
McCreary's last official role as commander was Monday at the Memorial Day ceremony at Oakwood Cemetery. A crowd of about 50 came to the ceremony, which included a color guard of local American Legion members and a speech by John Musgrave, a Vietnam War veteran.
"It is important we continue to remember veterans," McCreary said. "I think we pay our respects in different ways. Memorial Day is the way to do it as a nation."
As Commander, McCreary presided over monthly meetings the Lloyd Beaton post meets the first Wednesday of each month and promoted American Legion programs, such as Boys State and American Legion baseball. Maintaining the post's membership, providing graveside military services and fund-raisers were also part of the job.
"It's important we have membership, keep our numbers up," said McCreary of the American Legion, an advocacy group for veterans, which was started after World War I. The local post currently has 122 members. "We've been getting some new members 14 members in the past two years."
The American Legion hall in the 800 block of High Street also provides a meeting place for several organizations in town.
"It's the place to be," McCreary said. "It is important we have a Legion post in town."
McCreary, a realtor for Stephens Real Estate, served in the Kansas Army National Guard from 1966-1990 serving as a career counselor from 1984-1990. He trained in Germany and Italy, but never saw active duty.
"That was my best job," he said. "I'd rather be doing that than anything else. It was a salesman's job, a teacher's job and an administrative job."
Winkleman joined the U.S. Army Reserves out of high school as a way to help pay for his education. He is an elementary education major at Ottawa University, with a semester of student teaching left before graduating in December.
During his six years of serving in the Army, he learned French and served in Bosnia for six months in 1996 as a psychological operations specialist. He gathered intelligence and communicated with the local people while there.
Winkleman is the son of Carl and Kathleen Winkleman, Baldwin City. Carl Winkleman, a retired officer with the U.S. Air Force, will serve as vice commander of the Lloyd Beaton post. The father and son joined the American Legion together two years ago.
Aaron Winkleman said he will concentrate on his student teaching and his duties as the American Legion commander. He will be doing his student teaching in Osawatomie in the fall.
"The best way for me to learn is to jump right in and do it," Winkleman said of his role as commander. "My first goal is to get out of college, but I am not putting the American Legion on the back burner."
Winkleman said the local legion is always focusing on an activity or program. Right now, he said, American Legion baseball is on the forefront. Soon, the members will be focusing on its buffalo burger stand at the Maple Leaf Festival.
"We are always doing something," Winkleman said.
Winkleman agreed that an American Legion member of his age is unusual, and he hopes more young people who have served in the military will join the American Legion.
"A lot of youth don't think they are eligible," Winkleman said. "A lot of young kids get out (of the service) and go on with their lives and don't even think about it.
"If you get the young people in there, you might get some new ideas. I do think it is important to get young people involved," he said.