Leaving Baldwin: Baker graduate off to paramedic school
For the first time in four years, Andrew McCann is not going to have a job that keeps him on call 24 hours a day, seven days a week. The emergency medical technician, firefighter and Baker University student who often lived his life in that order graduated from Baker University on Sunday.
McCann, 22, has been prepared to save lives since he started lifeguarding at the age of 15. He became certified as an EMT when he was a senior at Pembroke Hill High School in Kansas City, Mo. Soon after arriving at Baker University, he was volunteering for what became Lawrence-Douglas County Fire & Medical.
"I knew I wanted to be more than a lifeguard," McCann said of the path his life has followed. "I wasn't two nights into my EMT class and I knew that was what I wanted to do."
He also knew he wanted to become part of the Baldwin City community when he came to Baker University immediately becoming a volunteer First Responder.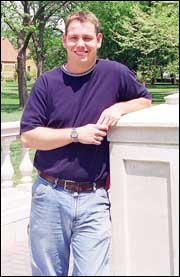 "When I came to Baker, it reminded me of my high school how small it was and the close-knit relationship between students and faculty," McCann said. "I lived in Kansas City all of my life. It was a nice change being in a small town.
"It was definitely my plan to become involved as soon as I could."
Later his freshman year, when the county's medical and fire services merged, he also became a volunteer for the Baldwin City Fire Department.
"It became obvious to me, if I was going to work for that department, I would have to learn," McCann said of becoming a firefighter. "I do enjoy it. At first I wasn't quite certain how it was going to be. It is a whole different side of things. It has always been exciting. I enjoy the friendships I have made on the fire department."
First Responder
Through Sunday, McCann was one of four volunteer First Responders for southeast Douglas County joined by two other Baker students and a Baldwin City police officer. It is a small squad compared to surrounding communities that have 10-25 volunteers.
"If you are in town, you are on duty. That has been our motto for four years," McCann said. "We definitely need to beef up our numbers. Other squads have shifts. Here in Baldwin, it's a 24-hour day, seven days a week."
Baldwin City's First Responders may grow in number next year. Baker University is planning to offer a First Responder interterm course in January, after about 40 students said they would be interested in taking the course.
"We lack numbers big time," said McCann, who gauged student interest via a campus-wide e-mail. "We knew I was going to be leaving. Tyler (Tuckness) only has one more year. We needed to find a way to get new people interested. Hopefully we can get more out of the interterm class next year."
More schooling
A First Responder is the most basic of the emergency medical service levels. McCann is an EMT intermediate defibrillator (ID), completing his EMT training at Kansas City Kansas Community College.
In August, he will start courses to become a paramedic at Oklahoma City Community College.
"The program in Oklahoma City had a lot of aspects to it that were attractive to me," McCann said. "I lived in this area all of my life. I absolutely loved (Oklahoma City). It is just a little bit of a change. I figure if I ever leave this area, why not now while I am young. I can always come back."
In three semesters, he would like to return to the area.
"When I complete my training, I want to come back to this area Lawrence, Baldwin or Johnson County to pursue a job in this area as a paramedic," he said.
In the meantime
McCann, the son of John McCann and Barbara Hakkio, won't be far from Baldwin City this summer. He is an assistant manager at a water park facility in Prairie Village. He managed the Baldwin City pool last summer.
He is excited about the summer and moving to Norman, Okla., a suburb of Oklahoma City, but he will miss the community he became a part of.
"Graduation will be a really exciting day for me," McCann said. "It will also be a sad time for me leaving Baldwin on a full-time basis. I am leaving behind a lot of friends and experiences and memories I don't want to leave."
His time here often meant juggling a full class load he took 17 hours his last semester with medical and fire calls. On a recent Friday, he woke up to a medical call, attended his 8 a.m. class, had a mid-morning medical call, ate lunch and went to a fire call instead of his afternoon class.
"It did that the whole rest of the day," he said. "We would consider that a very busy day."
And there are times when days go by without a medical or fire call.
"There is no typical day," he said.
What didn't change was McCann's dedication to the job and his reason for doing it. He loves working with people, even if it is not in the best of situations.
"Losing a patient, by far," he said is the worst part of his job. "It never gets any easier. Eventually you develop a callus nature to it, and it doesn't bother you quite as much. Nothing you ever do will keep it from bothering you when you lose somebody. It is never easy to walk in the next room and tell family members we tried our hardest, without success. It can be very difficult."
And he often found it hard working in a community where he came to know so many people.
"Being in a small community, it's never easy hearing an address you immediately know," he said. "Your heart sinks to the bottom of your stomach."
There is a best part of the job, too.
"The rewarding nature of it," he said. "I love working with people. When somebody feels like they have a big enough problem to call 911, and I can show up and provide the care to make them better, then I can always walk away with a smile on my face."
McCann said his experiences in the Baldwin community were valuable to his future as a paramedic. And despite some missed and half-attended classes, he thanked the support he received from Baker University.
"I could never have been so dedicated if Baker faculty hadn't been so supportive," said McCann, who also was a resident advisor at Baker for two years. "I am not a straight-A student I never have been. I can think of numerous times of a faculty member saying, 'It's OK, we can work it out.'
"The experiences I have gotten here, I couldn't replace with anything."