Putting kids on the right track
At this time of year, there are literally hundreds of junior high, high school and college runners, jumpers and throwers sharing the Baker University track. Mike and Angie Spielman are "coach" to many of them he as the Baldwin High School head boys track coach, and she as a Baldwin Junior High School assistant track coach.
Between the two of them, track is a year-round sport that reaches every youth age group. Mike also coaches the cross country teams at BHS in the fall. Both Spielmans are in charge of the summer Baldwin Track Club for grade-schoolers through high-schoolers.
They have been part of Baldwin's track programs for the better part of 10 years.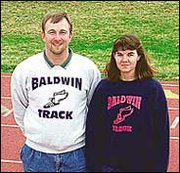 As a math teacher at BHS, Mike sees the students he coaches on and off the track. Angie has taught some of the students at a younger age she is a teacher at Rainbow Preschool.
"We spend a lot of time together," Mike said of the students he coaches. "I try to check up on them in school, and see how things are going with them."
It's part of being a coach, Mike said.
"There is a definite coach-athlete line," Mike said. "There is a lot of respect both ways."
At the junior high level, Angie is working with many students who are just starting the sport and its many events.
"The nice part is most seventh-graders haven't had any experience and you start them at ground zero," Angie said. "You teach them step by step."
Both Mike and Angie ran track and cross country at the University of Kansas, following successful high school careers. Mike ran at Sabetha High School, winning state in the 800- and 1,600-meter events in 1985, his senior year. At KU, he ran in distance events. Angie was a sprinter in Hillsboro, where she went to high school. At KU, she was a middle distance runner in track and also ran cross country.
What they learned as runners is now what they are coaching.
"I've done a lot of stuff I learned in college," Mike said. "I have modified it over the years to high school kids."
Mike said the biggest difference he has made during his 10 years coaching track is expecting more from his cross country runners and track team members.
"When you first start out as a coach, you don't know what to expect out of the kids," he said. "I raise my expectations every year. If they strive for that, good things are going to happen for them."
His goals for the students have remained the same from year to year.
"We try to improve every day. We try to get better at something stretching, running faster, running longer," he said. "The Frontier League is important. We shoot for the team championship. And we try to qualify as many people for state as we can."
This is Mike's second year as head coach of the boys track team. He was previously the assistant coach. He has coached cross country and the Baldwin Track Club for eight years.
The boys cross country team has claimed the state championship the past two years. Mike expects the boys track team to one of the best in the state this year. And members of the Baldwin Track Club came home with national placing last summer.
"Each team is different," he said. "The teams that are state champions are special, because they accomplish what no one else in Class 4A gets to do."
Angie occasionally runs with the cross country runners and during the summer. Mike said he doesn't run much now, but joins athletes lifting weights and stretching. Most of their focus is on the students.
"We've got some kids that don't have a lot of talent, but work their tails off and are good. We've got talented athletes that work hard," Mike said. "We've had a lot of kids go on and run in college, and that is rewarding."
The first track meet for BHS is the Baldwin Invitational on Friday, followed by the Baker Relays on Tuesday both at Liston Stadium. The junior high has home meets April 11 and 25.
Between the school district and Baker, the track gets a lot of use at this time of year. Angie said the congestion sometimes makes practice hard, but sharing also helps the younger age levels learn from the more experienced athletes.
"We can have up to 300 people up there working out," Angie said of the track at Liston Stadium. "It gets confusing, but the nice thing is the junior high can watch the high school and college kids and what they look like. You have all the different levels there. But it's hard to get a good workout in."
The Spielmans may be at the same place every afternoon, but it's not until summer time that they work together.
"There is a lot of stuff we do together," Mike said. "We have been fortunate and have had some great kids come out."
The time the Spielmans spend with youth from the community is appreciated.
"They are just a wonderful asset to our community," said BJHS secretary Cheryl Grosdidier, whose children Jamie, 15, and John, 8, have participated in the summer track program.
"I don't think people realize what they do for our community."
Grosdidier said she saw Mike at the grocery store during spring break last week, and she asked him if he was going anywhere for the break. He said "to the track."
"We are so fortunate to have them working with our kids," Grosdidier said. "They are such great role models."