Baker students take working break
A group of Baker University students acquired a few skills not learned in the classroom during their spring break last week. Some students helped put siding on a house. Others laid sod and cut landscape timbers for a flower garden. Several helped a church organization move its food pantry.
The working trip to Foley, Ala., has become a traditional spring break destination. This was the seventh year a group of students and Baker sponsors traveled to the town of 10,000 to help Habitat for Humanity projects.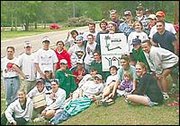 Of the 27 students who made the trip, some were returning to the rewarding experience, and others were new to the work and gratification they would encounter.
"If I wasn't a senior, I would go again next year," said Summer May, one of the rookies. "It was a really wonderful experience. I'm glad I went because it was a good opportunity to help others less fortunate and we got to lay on the beach."
The students stayed in beach-front condominiums and spent some free time at the beach and shopping. However, their break was mostly full of hard work and two 16-hour bus trips.
"When it's time to work, we expect them to work hard and they did," said university minister Ira DeSpain, who has made the trip for five years.
One group of students helped put siding on a three-bedroom house being built by women for Habitat for Humanity. It will soon be home for Lorraine Williams, a single mother, and her three children. The family's previous home was destroyed by fire in October. Williams' 2-year-old twins died in the blaze.
Baker University students visited the twins' gravesite during their stay.
"It made us understand what we were doing it for," May said. "We weren't doing it for us. We were doing it for the mother, the family."
DeSpain said that type of kindness from the students is easily generated on the spring break trip.
"I was real impressed. No one told them they had to do it," DeSpain said of visiting the cemetery. "It was their idea."
Another group of students laid sod and cut landscape timbers for a flower garden at a completed Habitat house. Yet another group helped the Christian Ecumenical Ministry move its food pantry to another location in Foley.
Their work was recognized by the community, through media coverage and by Habitat for Humanity founder Millard Fuller, who spoke to Baker students and other volunteers.
"The local people there embrace us in ways our students are surprised by," DeSpain said. "It is a real popular spring break area, the people there are used to students coming and trashing their town."
Fuller encouraged the students to bring their grandchildren to see the house they helped built, because it will still be giving shelter to families that many years from now, he said.
"He wanted them to know that during spring break, they were part of 8,600 college students working on Habitat projects," DeSpain said of Fuller's visit.
Baker students presented DeSpain a souvenir from the trip a piece of siding signed by Fuller and the students. For DeSpain, it was a souvenir of what was learned on the trip.
"One of my jobs at Baker is to create these type of chances," DeSpain said. " Helping within a community is part of becoming an educated person. It is incredibly gratifying to help students tune into that."
One thing is for sure, their work was appreciated.
"They worked so hard," said Habitat for Humanity secretary Vicki Roberson from Foley. "They helped us an awful lot. They got a lot of the vinyl siding up. They were a fun group of kids, and we appreciate the work they did."
DeSpain said the spring break trip fills up shortly after it is announced in January. The cost to the students is minimal, as part of the trip is paid for through the ministry budget and gifts, such as a donation made this year by the Baker class of 1964.
"We try to keep the cost to students low, so the trip can be open for those who want to go, who it would be meaningful for," DeSpain said.
Traveling to Alabama were: Leslie Torrez, Ann Wilkinson, Rebecca Ewert, Summer May, Andy Taylor, Kami Winchell, Diana Sylvester, Allison Apple, Steve Ard, Emily Comstock, Sarah Butler, Mark Goodwin, Kate Staupp, Kristen Perkins, Christina Fenton, Rachel Durante, Marti and Vince Schroeder, Olivia Skrdlant, Julie Waruszewski, Brenna Kirk, Amy Vega, Nicole Schwartz, Melanie Seute, Carrie Lodge, Cindy Dengel, Ira DeSpain, Susan and Todd Hoffman, and Grace Vaughn.