Baldwin High wins its 'championship' at state tourney
While the plaque says third place, the Baldwin High School Bulldogs were playing for more Saturday when they bounced the Scott City Beavers 64-56 in the Class 4A State Tournament.
"That was our championship game," said coach Bobby Taul. "To us, the consolation game was our championship and we won it.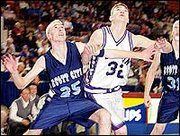 "There are 61 other Class 4A teams in the state that would like to be in that spot. We went out there to win games and we did. It's a tremendous accomplishment for the kids. They wanted it," said Taul.
It would have been easy to fold up the tent after Friday's semi-final loss to Labette County after the Bulldogs had filled the tournament-spoiler role in Thursday's opening 68-57 upset win over No. 1 seeded Jefferson County West. BHS didn't do that.
"We could have come back and said 'to heck with it.' We could have pouted and not shown up. But we didn't," he said. "We turned it around and made a positive out of it for us."
The game had plenty of drama. Scott City jumped out early, but BHS battled back behind the big three of senior Andy Meinen and juniors Ben Cosman and Heath Knight. Meinen scored on an inside move, Cosman on a layup and Knight with the tournament's first slam dunk to forge a 12-12 first-quarter tie.
Scott City went on a roll to open the second quarter and built a nine-point lead at the 4:21 mark. But a pair of Cosman free throws and back-to-back 3 pointers by Knight brought the Bulldogs back. The first of Knight's 3s bounced around the rim gently about five times before falling in. It proved to be a sign of good things to come.
Again Scott City went up, but a 3-pointer by senior Joe Kivett pulled BHS within three with 1:25 to go in the half. A pair of Colin Barker free throws cut it to one, 29-28, with 58 seconds left. Scott City had one last surge, though, to take a 32-28 halftime lead. But BHS wasn't about to give in.
"When we got down in the game, we came back," said Taul. "We said 'we're down, but we're only down four. We can win it.' They came out in the second half and did what had to be done.
"We blocked out, we rebounded, we attacked the press and we scored," he said.
Scott City opened the second half with a 3 to go up 35-28. From there, it was all Bulldogs. Barker started an 8-0 run with an 8-footer, Cosman had four points and Knight two as BHS went up 36-35 at the 4:09 mark. Scott City countered to regain the lead, but Cosman came up with a steal and a layup to give the Bulldogs the lead for good at 38-37 with 3:01 left in the quarter.
Senior Blake Regnier canned an 8-footer, Knight added an inside move and Meinen banked in a follow shot to put BHS up 44-37 at the end of the third quarter. Two free throws from sophomore Hugh Murphy gave Baldwin a 12-point lead at 50-38 with 5:29 left.
Two minutes later, the wheels completely fell off for Scott City when its 6-foot-8 star player Richard Nolan was whistled for his fourth foul and then pushed Cosman to pick up an intentional foul. It was Nolan's fifth foul and he had to exit the game. It was smooth sailing from there for BHS.
Cosman converted two of the three ensuing free throws for a 13-point lead. He followed that up after four Knight points with a slam dunk of his own with 46 seconds left for BHS's biggest lead of the night at 63-49. The trophy was Baldwin's.
"After the first game (the upset over Jeff West), we celebrated like we had won the championship. It was a surprise for everyone and we acted like it," said Taul. "When we won the second game, we celebrated like we should have won the game. That tells me something about them. There's something special about these kids.
"In the second half we changed defenses to a 2-1-2 instead of a 3-2 and it shut the middle down," he said. "It helped us block out better. We shot better, we also rebounded offensively better and got follow shots. We weren't timid like we were in the first half."
Even Monday, the third-place finish hadn't sunk in yet for the players. But, they knew they wanted it.
"I don't think it's set in," said Kivett. "It's a shock. It's a great feeling. We went as far as we could. We wanted the trophy to put in the case. We wanted it more than a little medal. Fourth place gets medals. We wanted the trophy."
Cosman led the way with 22 points and Knight added 18. Meinen ended with eight points, Barker five, Murphy and Regnier four and Kivett with three.
"Heath really came on strong in the second half," said Taul. "If he starts out slow, you better watch out because he can score a bunch in a hurry. He's just got to keep scoring. Ben has been so consistent for us all year long. He does it every game.
"Andy came in and did what he needed to do," he said. "Joe had a big 3. Colin, Blake and Hugh hit free throws. Those seven kids that played most of the time all had big plays during the tournament. Ben, Heath and Andy were the big scorers, but those other four kids can come in and hurt you. Those kids knew their roles."
They knew their roles, but they're not quite sure when they'll realize what they've done.
"It really hasn't sunk in yet," said Cosman. "I don't really know when it will. It's amazing. It blows my mind."